Showbiz
Piazzolla performed by the Symphony Orchestra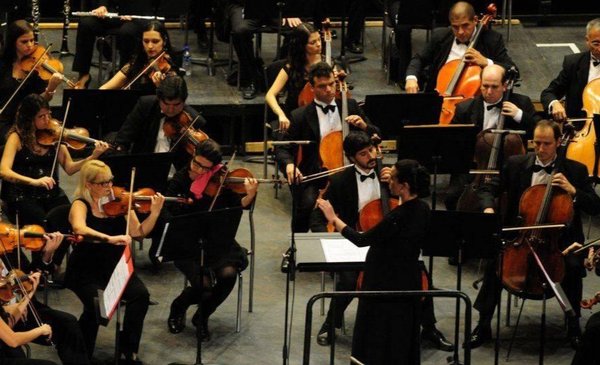 November 30, 2021 – 21:42
The Argentine Mozarteum Filial Salta and the Institute of Music and Dance, present "Viva el tango", this Thursday at 9 pm at the Provincial Theater "Juan Carlos Saravia", Zuviría 70. Tickets are on sale.
Under the direction of Maestra Yeny Delgado, the Salta Symphony Orchestra will begin the last month of the year with a presentation where city music will be the protagonist. With the performance of Aleksandre Urushadze as soloist on violin, you will be able to enjoy Las Cuatro Estaciones Porteñas by Astor Piazzolla and the outstanding performance of Virginia Dubois who will interpret an exquisite selection of tangos.
Virginia Dubois, singer and actress born in La Plata, living in Salta since she was little. She began her career in Tucumán where she participated in the play "La sombra de la luna" for which she was nominated "female revelation" at the Artea 2000 awards. She continued her career in London where she was part of an English company that presented works for adolescents. in different stages of England. In 2007, settled in Buenos Aires, she discovered her passion for musical comedy and dramaturgy. In 2013 she was invited to join a tango show presented at the Bolívar Hall Theater in London, together with the pianist Rivaldo Cinalli. The show lasted for 6 months during which they also performed at concerts and cultural events in Italy.
Upon returning to Salta, he formed his first tango trio that, transformed into a quintet, performs in different stages of the country, including Cosquín. In 2016 he made a tour of Madrid, which included theaters and different tango venues. In 2019 she made presentations of her milonguero repertoire in Barcelona and at festivals in Spain, accompanied by local musicians. Upon returning to Salta, he inaugurated his "Casa de tango", with a wooden track, where he gives classes and organizes meetings between dancers and people who are fond of tango. The place became a space to listen to orchestras and dance milonga.
Aleksandre Urushadze, violinist, was born Tbilisi (Georgia) where he studied with his mother, the violinist Inga Iordanishvili. He continued his studies in Moscow with Talsia Stanislavichik and with Nona Golovina. (Tbilisi). He attended the Music Teacher, Special Regime, at the School of Music of the Province of Salta. In 2006 he won the position of Violinist of the Salta Symphony Orchestra, where he remains and works as Assistant Concertino. He worked as a violin and viola teacher for the Jujuy Children's Orchestra. He is a member of the Camerata Stradivari Foundation as a musician and teacher.
He has participated in numerous opportunities in the cycle "Todos al Escenario" of the Chamber Music Department of the Province of Salta and as a guest musician of the Status Ra Trio. He is a member of the tango quintet "Palotanguero", with performances in Salta, Jujuy, Tucumán. He participated as a Soloist in Concerts provided by the Salta Symphony Orchestra.