Showbiz
Play in the corridors of the hospital to heal with music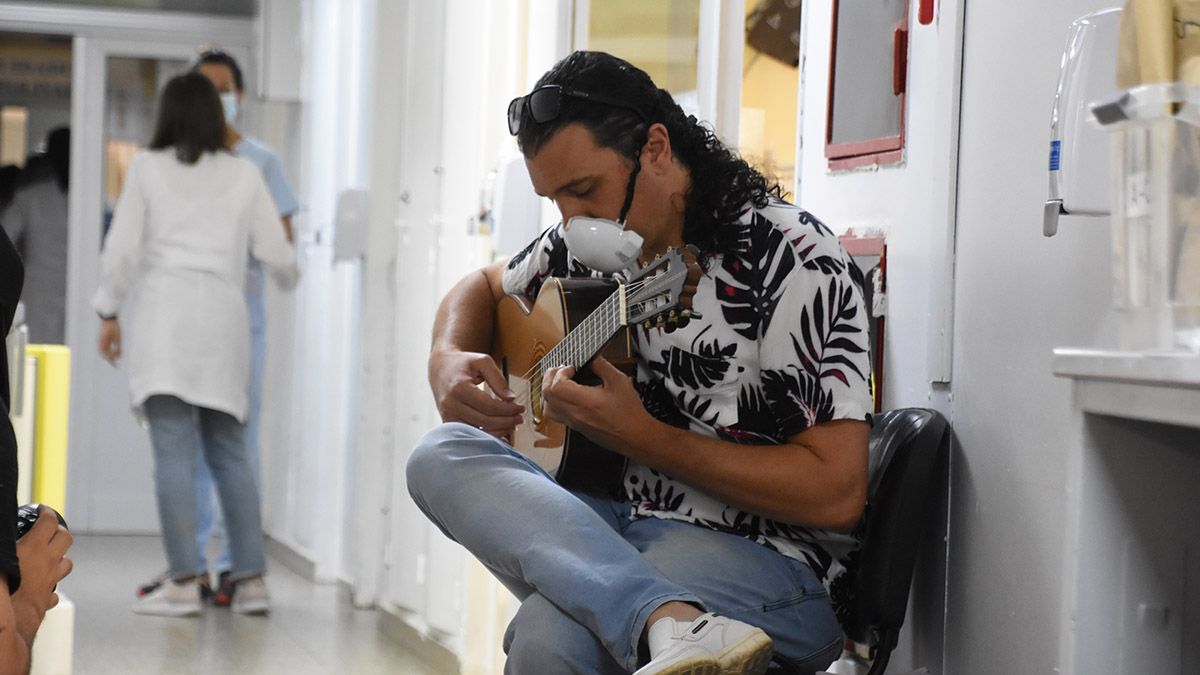 Jorge Palacios is a renowned instrumentalist from Neuquén who wanted to collaborate in the pandemic with what he values ​​most. Since a time ago, plays in the corridors of the Castro Rendón hospital to heal with music those who are going through a difficult time. Although he cannot see his audience, he gifts emotional songs with his guitar to inpatients and they thank him with applause from the other side of the wall.
It is not the first time that the artist performs this type of solidarity concerts in confined spaces. Years ago, in Villa Regina, He played in nursing homes and psychiatric centers as a way to pay for their participation in programs of the National Institute of Music. That experience marked him and showed him how art can transform a person's life.
He explained that the idea of ​​offering this type of serenade came up "from my own family history, because my parents' health issues above all ", and thus he discovered" what happens with music when health hangs in the balance and people need others to get ahead; I was always moved by the effect it has. "
By playing in these atypical settings, Jorge avoids fanfare and take care that the sounds are not invasive for those who listen. He does not give away improvised concerts but, on the contrary, plans in detail the sensory experience that he brings as a gift.
"Music connects with very deep parts of the person, something ancestral, that's why I think the repertoire exclusively for the moment and I always choose a part that is linked to a letter, like a tango that may be the soundtrack of a person, from his childhood or his youth, and also music that moves me because of the beauty of the composition or how they sound on the guitar, "he explained.
He recalled that, in his first visits to nursing homes, "something very particular happened to me because people who seemed to be disconnected from the world due to their senility and suddenly they activated their memory from the melody of some tango or bolero ".
She said that the image of a woman in one of those first concerts was recorded in her "because it seemed that she was not listening, that she was totally disconnected, and It was to get up from the chair and start singing a tango that I played, which is something that shocked me a lot ".
In the hospital, I had wanted to go for a long time, although it was made difficult by the pandemic. And he was able to get permission from the authorities. However, in order to attend, you must adhere to the protocols and wait for the doctors to indicate the time for the visit.
When it reaches, he sits with his guitar in a corner of the corridor and imagines the patients, his anonymous audience on the other side of the wall. Little by little, the notes emerge from the strings and the aseptic atmosphere of the hospitalization area is covered by a fresh breeze full of surprise, hope and gratitude.
Jorge said that, on his first visit, he brought with him "a music that I composed in the middle of the pandemic on the river in Neuquén that was full of swans and it gave me the sensation of taking that landscape from my guitar to that place, as if drawing the landscape with sounds ".
"The strong thing is that you finish playing and they applaud youYou hear the applause from different places and you don't know who they are, "he described with the pride of someone who knows that his art has reached its destination.
He indicated that, on the visit with which he began the concerts at Castro Rendón, "that first time, right where I was, I could look into a room with two people hospitalized there, who I think were awake, and a man with a respirator, an old man, he made me with his thumb as he liked, so I played him some tangos. "Without speaking, they both connected and shared an emotional journey through the vibrations that came from the guitar.
Jorge stressed that he takes this task "with great responsibility", because he is aware of the stress of the doctors and workers of the place and of the critical moment of those who are hospitalized. Without trying, the visits also produced a transformation in him.
Just as he flooded the corridors with music, he had to get used to living with the strongest scenario of the pandemic. He trusted that, "for the mere fact of being there, you witness the pain and I think about it a lot, how many people maybe it's the last time you listen to music".
On their most recent visit, as they already let relatives in, some people they left the rooms to see him and they would take photos of it or return with a smile to tell those who were interned that yes, the melody came from someone who was playing for them.
Jorge likes to think that those who listen to him recover a moment in their life that had been hidden between pain, worries and the passage of time. He remarked that "the music stimulates short and long term memory, brings back almost forgotten memories "and also pushes you to be part of an artistic experience.
"Not yet in the hospital but in other places, It happened to me that they come and ask you for a song to have an artistic, leading moment, and start singing and it is a sensory experience, pure vibration, in which they leave a bit of that reality that they are living, "he said.
Jorge has lived in Neuquén for years and was rector at the School of Music. He studied at General Roca and specialized in Europe. Compose instrumental songs, is a teacher and offers concerts also in the traditional sense of the term, those where the audience is in an armchair and the artist, on top of a stage.
He noted that, prior to this initiative, He went on two other occasions to play the hospital: "In 2018 I was there for the International Day to Fight AIDS and, in 2016, we went with a trio of classical music."
Despite his career, he loves performances outside of conventional spaces because he sees it as a contribution to others. "Music is my commitment and my flag", he stressed.
Regarding the experience in the hospital, he indicated that he wants to continue with his art for hospitalized people and that this idea be replicated among other colleagues who also want to share the music they make with an unforeseen audience.
He reasoned that, because of what he lives these days among doctors, nurses and patients, "It is inevitable that this will leave me something and some new composition will come out of here, because what you compose has to do with your own fiber, your experiences. "For this reason, just as today he leaves his mark on many people who listen to him, he will also receive a learning gift, a new sound on his guitar that will accompany forever.