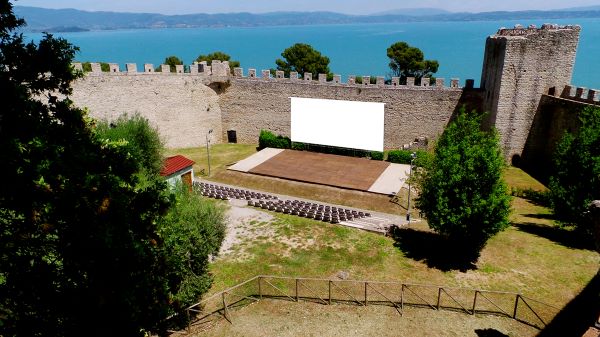 (UNWEB) – CASTIGLIONE DEL LAGO – The medieval fortress is a spectacular "place", with so much history and a breathtaking panorama, not surprisingly included in the 10 most beautiful arenas in Italy by the spectacular weekly "TV Sorrisi e Canzoni": it Lagodarte hosts musical, cultural and open-air cinema events organized by Impresa Sociale.
And from yesterday the event that helps to raise awareness of a medieval castle, a military fortification dating back to the 13th century, returns: "rokkacinema 2023"For decades it has been a unique experience to enjoy the big screen, starry nights, socializing, entertainment and culture, all together. Lagodart has included RoccaCinema in the project"cinema revolution what a summer show", an initiative promoted by the Ministry of Culture in collaboration with production companies and cinema exhibitors to bring the general public to Italian cinemas and, in this case, open-air arenas, to enhance the cinematic experience and turn summer into a real Gaya. Cinema Festival from 16 June to 16 September. Tickets for films of Italian, European and British nationality cost only eur 3.50, across all cinemas participating in the initiative.
«Our cinema offer is popular, suitable for a vast and general public, while not sacrificing quality proposals, in Italian and in the original English version, as every year. In the first part of the program, until August 8, we offer three films dedicated to the great Italian art and included in a holistic proposal with the new exhibition "Renaissance: Perugino and Signorelli, the invention of the landscape". Contemporary philosophy between the real and the virtual "Palazzo della Corgna can be visited until October". about this "Perugino. immortal renaissance"Tuesday, July 11,"Raphael. young prodigy"Monday 24th July and"Sin: Michelangelo's Fury"Tuesday 1 August: A package will be offered on these three dates, which includes a guided tour of the exhibition, accompanied by curator and art critic Andrea Baffoni, who will give a brief introduction to each film.
Tomorrow evening there will be a debut film for 3.5 euros "thank you guys"by Riccardo Milani with Antonio Albanese, Sonia Bergamasco and Vinicio Marchioni, followed by Saturday"the little Mermaid"In Italian by Bob Marshall and in the original language on Sunday. The appointment with the third film produced by the Association Per Gioella for Friday 7 July deserves attention:"The Crimes of Bar La Ruota: The Mystery of Ambra", a comic thriller starring young people from the town near Castiglione del Lago, directed by Claudio Mariotini.
Again in the first half of the programming, the great auteur cinema is on the programme. They range from award winningeight mountains"Written and directed by Felix Van Groeningen and Charlotte Vandermars, with brilliant interpretation by Alessandro Borghi and Luca Marinelli,"future sun"For the latest masterpiece by Marco Bellocchio, by Nanni Moretti"Abduction"With Paolo Pierobone, Fausto Russo Alesi, Barbara Ronchi and little Annie Sala: all films at a special price of 3.5 euros.
The second part, which will start on August 9, includes "Mission Impossible 7" with Tom Cruise, "Barbie" with Margot Robbie and Ryan Gosling, French comedy "Two Weddings at a Time" and "Fiancée for Rent" with Jennifer. Lawrence will definitely come and Matthew Broderick. Ticket price fixed for international movies eur 6.50.
Online presale is possible on the website www.cinemacaporali.it or www.liveticket.it/roccacinema.