Growing "film career" and big popularity on Instagram: Lewis Hamilton's bulldog appears in movies with Brad Pitt. The Formula 1 movie, directed by the same Top Gun director, is ready to reveal the fascinating side of the world of motor racing.
by Daniela Bilanzuoli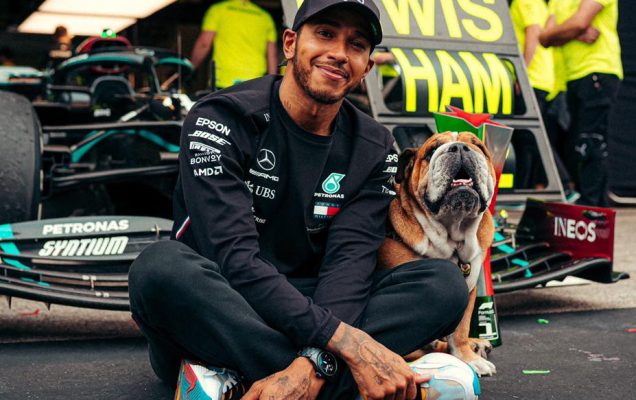 Roscoe Hamilton, beloved bulldog of world champion Lewis Hamilton, will be part of the cast of the highly anticipated Formula 1 movie starring Brad Pitt, Damson Idris and Kerry Condon. Confirmation of his participation came directly from his owner during a public appearance after the Silverstone Grand Prix.
Hamilton revealed that Roscoe worked hard for the role, and also mentioned the canine's incredible success on social media, noting his popularity on Instagram. Roscoe Hamilton, in fact, is now a real celebrity. With almost 900,000 followers, he has a very lucrative career: he earns a whopping $700 a day from photo shoots and sponsorship deals and takes home an outstanding annual fee of $250,000.
Moreover, when he roams the paddock, as during the Silverstone Grand Prix, Roscoe moves with confidence and elegance, becoming the focus of photographers and journalists who try to "interview him", causing smiles and amusement on social networks. Therefore, it is not surprising that Roscoe played Joseph Kosinski in the film.
The film, produced by Apple Studios in collaboration with Liberty Media, aims to capture the true essence of Formula 1. To do this, he follows the circus around the world, attracting film crews, professional actors, and even uses custom-made single-seat cars. It also features all of the real racers immortalized during the race weekend, showing their lives in the natural context of the race track.
Kosinski's new film, following on from the success of Top Gun: Maverick, promises to offer a passionate and sincere look behind the scenes of the world of motor racing, and Roscoe Hamilton, with his irresistible charm, is ready to win the hearts of even the cinema audience.
(Opening photo: Facebook: Mercedes-AMG Petronas F1 team)
© 2023 – All rights reserved.