Selena Gomez managed to position herself as one of the biggest pop stars in the music industry. At 28 years old, his vocal quality and angelic face are a reference in his generation. Now, the acclaimed singer is back in the news by being on the cover of Vogue magazine, Australia edition.
Known in its beginnings for being part of the Disney talent, the idol of social networks with 239 million followers, gave an extreme turn to her look in an unprecedented pose in which she reveals her influence on fashion with an avant-garde and even futuristic proposal.
The performer of "Lose you to love me" transformed by making use of bold outfits from renowned international fashion brands.
Selena Gomez's golden look
More daring and beautiful than ever, Selena Gomez is consolidated as an "it girl" with her unique style and source of inspiration for young people who like fashion.
In a perfect combination, she looked unrecognizable with a new look that made her a blonde girl leaving behind her iconic brunette hair, which she has always worn in her artistic career.
The hairstyle was part of her pose, with a pick-up in which she separated her hair in the middle, leaving curly locks on either side of her face.
Totally golden was the singer and actress, in the main photo of the magazine -digital version- dressed in a set of the Burberry Autumn / Winter 2021 collection, as specified by a publication of the Daily Mail.
The striking look was summed up in a glamorous button-down shirt in front, made of a metallic fabric, with yellow appliques on the neck and chest, which are joined to fringed details. A unique creation that she combined with a gold textured skirt.
The accessories were the main protagonists of her avant-garde outfit, a maxi choker of the same brand formed by small golden circles adorned her neck, along with extra-large circular earrings that simulated a flower.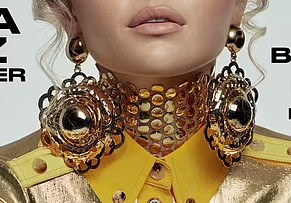 Her fresh and always jovial face, was transformed with an equally striking makeup in which she outlined her eyes lengthening them, with lips in nude tones.
At the end of March, Selena shared a photograph on her Instagram, with her blonde hair, an image that was not repeated in new posts, until this new reappearance in which she confirms her new platinum appearance.
The meaning of "Rare"
A few weeks before her 29th birthday, the artist talked about her personal life in the interview for Vogue. Her stormy relationship with singer Justin Bieber and then with Canadian performer The Weekend, marked her life in the past and although she didn't utter a name, she called them "cursed."
She confessed how bad she felt in her relationships, to the point of acknowledging that she "never felt the same" to a romantic partner.
He revealed the true meaning of "Rare," the word with which he titled his latest album, his new makeup line and even his foundation in defense of mental health.
"I guess I needed to find that word for myself, because I felt less in past relationships and I never really felt the same," he said.
Having healed, he stressed that he feels and is another. "I feel like I'm constantly growing in the right direction."
All about Selena Gomez
All About Celebrities