Sports
Summer football will return to Salta on January 22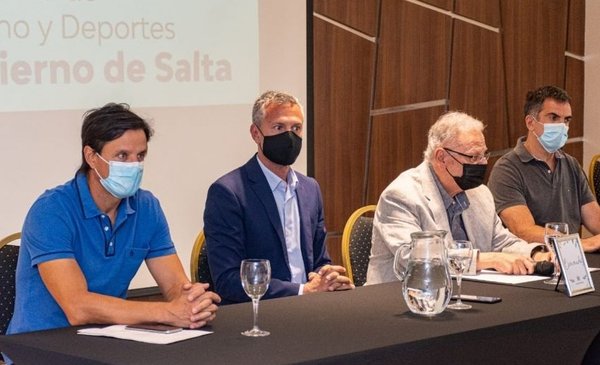 January 14, 2022 – 18:42
Gimnasia y Tiro, San Martín de Tucumán, Central Norte and Chaco For Ever will participate in an unmissable home run at the Martearena.
Salta is already beginning to throb the summer home run that will begin on January 22 at the Martearena stadium and will feature the participation of the main teams from Salta and two visitors.
It is that in a conference held this afternoon, the Minister of Tourism and Sports, Mario Peña, together with the Secretary of Sports, Sergio Chibán, the president of the Gymnastics and Shooting Football Commission, Sergio Plaza, and the first vice president of Central Norte, Leandro Etchezar, provided details of the matches in which Gimnasia y Tiro, Central Norte, San Martín de Tucumán and Chaco For Ever will participate.
The so-called "Varano Salta Quadrangular 2022" will mark the return of summer football to the province after two years of inactivity due to the coronavirus pandemic that affects the entire planet.
It should be noted that the tickets for each game will have the following costs: $500 for the popular ones, $750 for the preferential ones and $1,000 for the stalls. They can be purchased at the ticket offices of the Martearena stadium and at the Central Norte and Gimnasia y Tiro stadiums, in the case of the matches that the Salta representatives will play.
match schedule
Saturday 1/22: 21:30 – San Martin (T) vs Gimnasia y Tiro
Tuesday 01/25: 21:30 – San Martin (T) vs Chaco For Ever
Sunday 01/30: 19:00 – North Central vs. Chaco For Ever
Tuesday 2/8: 21:30 – North Central vs Gimnasia y Tiro.
Planning and strengthening
"I want to thank the clubs for the joint work that we have carried out to achieve the realization of this home run that returns summer football to the people of Salta. We are going through difficult times. However, thanks to the support of Governor Gustavo Sáenz and the entire secretariat team, we continue planning and advancing with actions that strengthen sports and football in Salta," said Minister Peña.
For his part, the Secretary of Sports, Sergio Chibán, stressed that with this decision the province resumes the development of a project that has been a pioneer in the country, such as the summer tournaments in the interior. "Holding this tournament is possible thanks to Governor Sáenz's vision of promoting the development of sport and the support of the institutions with which we have worked so that the people of Salta can once again enjoy a summer tournament," he said.