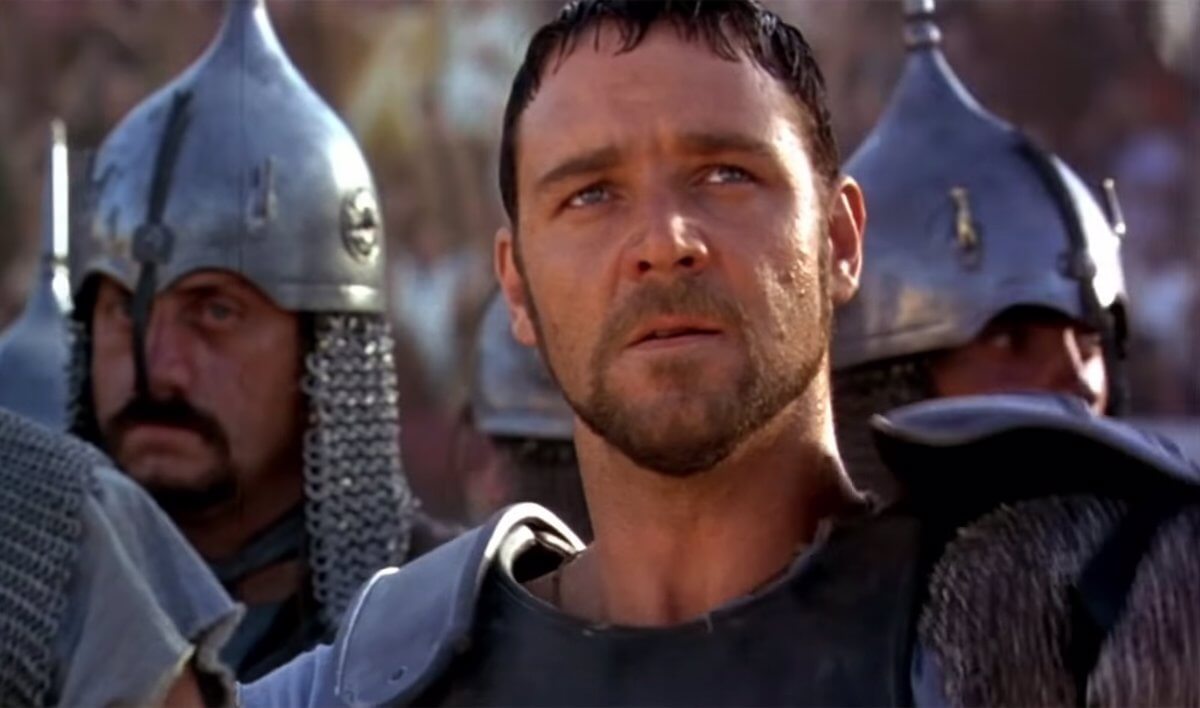 The article has been checked for accuracy (content includes links to reputable media sites, academic research institutions, and occasionally medical studies). All content on our website has been reviewed, however, if you believe our content is inaccurate, out of date or otherwise questionable, you may contact us to make the necessary corrections.
8 minutes
Are you a fan of Gladiator? We collect his best phrases and we point out some curiosities of the film.
Gladiator (2000) is an American epic genre film rated as one of the best in history. It was directed by Ridley Scott and co-produced by DreamWorks Pictures and Universal Pictures. It is inspired by the 1958 book those about to die by Daniel P. Mannix. Today we gather the best phrases of Gladiator to recall some of its scenes.
The film has a rating of 8.5/10 on IMDb. It was the second highest grossing film of the year 2000, only behind mission impossible 2. It earned over $450 million at the box office on a $103 million budget., which consolidated it as a financial success.
Reflections and phrases of Gladiator
At the time the film won five Academy Awards: Best Picture, Best Actor, Best Sound, Best Visual Effects, and Best Costume Designs. As a consequence, there was a boom in interest in series and movies inspired by the Greek and Roman civilizations. We leave you with some of the best phrases of Gladiator.
1. "When a man sees his end he wants to know that there was some purpose in his life."
The film was acclaimed for the performances of Russell Crowe, in the role of Maximus Decimus Meridius and Joaquin Phoenix, in the role of Commodus.
2. "Whatever comes out of these doors we have a better chance of living if we work together. Do you understand? If we stay together we will survive."
Gladiator it was recorded in three main locations: England, Morocco and Malta. In the latter, a replica of the Colosseum of Rome was built in plaster with a height of 15 meters.
3. "What we do in life resonates in eternity."
The plot of the story is partially inspired by real events. It had the participation of historians and advisors, although some licenses were taken to make the story more attractive or practical at the time of recording.
4. "Death smiles on us all. All a man can do is smile back."
The writers were also inspired by classic historical epic films such as The fall of the Roman Empire (1964) and Spartacus (1960).
5. "Sometimes I do what I want to do. The rest of the time I do what I have to do."
The soundtrack was composed by Hans Zimmer, one of the greatest experts in this field. It also had the collaboration of Lisa Gerrard and Gavin Greenaway.
6. "The time to honor yourself will soon come to an end."
Real animals were used in the scenes recreated in the Colosseum. Many actors were injured in the recording of the scenes, especially Ridley Scott.
7. "Aren't you entertained? Aren't you entertained? Isn't this why you're here?"
In its beginnings, the main role was offered to Mel Gibson, which he rejected, considering that his age did not correspond to the development of the character.
8. "I don't claim to be a man of the people. But I try to be a man for the people."
Due to a heart attack, actor Oliver Reed died before finishing filming his scenes. Special effects were used to complete the plot without their absence affecting the development of the story. The tape was one of the pioneers in this regard.
10. "Father, I would have massacred the whole world if you only loved me."
Apart from the historical alterations (most of them voluntary), there are two scenes in which errors were leaked in the shooting: in the forest when a pair of jeans is seen in the background and in the Colosseum when a gas cylinder is seen under a quadriga.
11. "Nothing happens to anyone that they are not naturally equipped to endure."
Maximus was originally going to be called Narcissus, after Commodo's actual assassin. It is a fictional creation that was built on the basis of the latter, as well as Spartacus and Cincinnatus.
12. "Fear and wonder, a powerful combination."
There are a lot of improvised scenes on the tape. The description of the home of the character Maximus and Commodo's shout to Lucilla are just two of several.
13. "Learn from me. I wasn't the best because I killed fast. I was the best because the crowd loved me. Win the crowd and you will win your freedom."
Connie Nielsen, who stars as Lucilla, is passionate about the history of the Roman Empire. Collaborated on some scenes for historical accuracy (licensing aside).
14. "Today I saw a slave become more powerful than the emperor of Rome."
The injuries we see on Maximus' face are totally real. In a couple of scenes, Crowe's horse was startled and rode into some bushes, causing a series of scratches to his face.
15. "Your flaws as a son are my failures as a father."
To add to the actor's injuries, he lost feeling in his index finger for two years due to a sword fight, broke a bone in his foot, fractured his hip bone, and injured several tendons.
16. "I'm tired of being strong."
The mythical scene in which Maximus caresses the ears of wheat are not actually the actor's hands, but those of his double.
17. "I've felt alone all my life, except with you."
It is believed that the fight in the Colosseum against a rhinoceros was set up in the original script, although it was eventually cut for practical purposes.
18. "The beating heart of Rome is not the marble of the senate."
Some of the film's sets were also used in Lawrence of Arabia (1962), Salmon fishing in Yemen (2011) and games of thrones (2011-2019).
19. "He enters Rome as a conquering hero, but what has he conquered?"
On Maximus' shoulder we see a tattoo with the acronym SPQR. correspond with Senatus Populusque Romanus, that is to say, The Senate and the Roman people.
20. "Mortals are nothing more than shadows and dust. Shadows and dust, Maximus!"
Costume design was handled by Janty Yates who, together with her team, had to make more than 10,000 costumes and 27,000 pieces of armor in a period of three months.
21. "People should know when they are conquered."
Maximus's armor wasn't actually designed exclusively for him, as some of it was used in The invaders (1964), The last temptation of Christ (1988) and later in Vikings (2013).
22. "You have a great name. He must kill your name before he kills you."
24 carriages were built for the tape, of which only 6 were used.
23. "At my signal unleash hell."
Real soldiers from the Rotal Horse Artillery participated in the Germania scenes, as they used ceremonial cannons that required specialized equipment to control them.
24. "I am obliged to kill, so I kill. It's enough".
The film received a total of 119 nominations for prestigious awards, of which it obtained a total of 48.
25. "Are you in danger of becoming a good man, Proximo?"
Most of the CG effects were done by The Mill. This of course includes the recreation of the scenes after Oliver Reed's death.
26. "How will the world pronounce my name in the years to come? Will I be known as the philosopher? The warrior? The tyrant? Or am I the emperor who restored Rome to her true self?
Apart from increasing interest in movies and series set in Greece and Rome, there was also an increase in fiction and historical books about these civilizations.
27. "Once upon a time there was a dream that was Rome. You could only whisper it. Anything more than a whisper faded, it was so fragile. And I'm afraid it won't survive the winter."
Gladiator's phrases, apart from the improvisations, were in charge of screenwriters David Franzoni, John Logan and William Nicholson.
28. "He will bring them death and they will love him for it."
The white breastplate that adorns Commodo at the end of the film is an exact reproduction of the breastplate of Augustus, the first emperor of Rome.
29. "The general who became a slave. The slave who became a gladiator. The gladiator who challenged an emperor."
Luciano Pavarotti refused to work on the film's soundtrack, something that he later confessed he would regret.
30. "He sleeps so well because he is loved."
Maximus's pet wolf is not a real wolf, he was a Tervuren Belgian Shepherd. Because these scenes were shot in England, the law did not allow the use of wolves in these contexts.
31. "This is nice fiction, isn't it?"
Although of course there are one or two scenes that were shot offline, much of the film was shot chronologically.
32. "You are lying. I always knew when you lied because you were never good at it."
Joaquin Phoenix is ​​vegan, so he only used synthetic leather in his character's wardrobe.
33. "Is Rome worth the life of a good man? We believed it once. Make us believe again. He was a soldier of Rome. Honor him."
We finish this selection of phrases from Gladiator with these words that every fan of the film must remember.
At the end of 2021, it was announced that the script for the second installment of the film is ready and that production will begin. We hope that these short sentences of Gladiator They are useful to reconnect with the film and prepare you to see its sequel in the next few years on the big screen.
You might be interested…