As of August 7, the holiday is being celebrated in more than 170 countries world breastfeeding week, to promote it and improve the health of babies around the world. In the city, different Buenos Aires government hospitals run various campaigns to help raise awareness and spread the word about this act.
This year, under the motto "Promoting and supporting breastfeeding when returning to work" Emphasis will be placed on making breastfeeders aware of their rights, consolidating support in the workplace by creating friendly spaces or breastfeeding, engaging family groups and society in maintaining breastfeeding, and promoting actions to improve working conditions and the necessary support for breastfeeding.
This year's slogan is "Promoting and supporting breastfeeding when returning to work"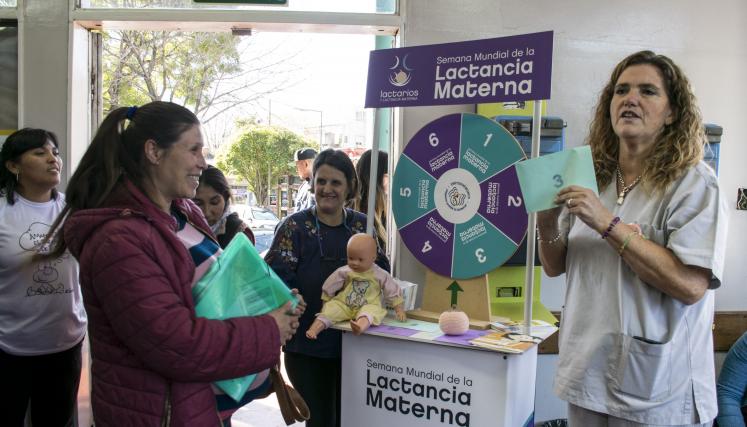 GCBA photos
Breastfeeders have the right to continue breastfeeding when they return to work, says Article 20744 of the Labor Contract Law, Article 2179.
In turn, you are entitled to a daily break for one year from the date of the baby's birth. The period of daily rest may be extended for medical reasons.
Breast milk is the only food a baby needs until 6 months of age. Then, until two years of age, supplement with other foods.
Under 6 months, breast milk is the only food your baby needs
GCBA photos
Benefits of breastfeeding for your baby:
It is the most complete and safest food because it provides all the energy and nutrients a baby needs in the first few months of life and is easy to digest.
Prevention of infectious, chronic, digestive, respiratory, celiac disease, otitis media or allergies. It helps reduce mortality from diseases such as pneumonia, facilitates faster recovery, and reduces the incidence of malnutrition in children.
It promotes intellectual, psychomotor, emotional, social development and builds a safer and more independent personality.
There is a lower incidence of dental problems and malocclusion.
Benefits for Mom:
Promotes mother-baby bond.
Reduce the risk of ovarian and breast cancer.
The body recovers faster.
The risk of anemia is low.
The risk of postpartum depression is low.
There are breastfeeding clinics in the city where you can get information

GCBA photos
Lactation Clinic
If you have any questions or doubtsyou can go to breastfeeding clinic So that a professional can accompany you during your breastfeeding process.
Rivadavia Hospital – Maternity Services Tuesday to Friday 8:00 am to 11:30 am | Lower Level.
Tornu Hospital – Pediatric services Monday through Friday, 9:00 am to 4:00 pm.
Durand Hospital – Joint Inpatient Services, Mon-Fri 9am-1pm | 2nd Floor.
Pinheiro Hospital – Monday from 8:00 to 10:00. Foreign Office No. 23.
Salda Hospital – Monday to Friday from 8:00 to 12:00. Pediatric Office | 1st Floor.
Also available is Telephone line 136, a service available 24 hours a day, with professionals involved, answering questions and providing assistance. The line has two service options each day of the week:
this option 2 "The Pediatrician at Home".
this option 3 "Mom line".
breastfeeding in the city
It is a space for working mothers to more easily coordinate work activities with breastfeeding and feeding their babies.
The Municipal Department of Health has lactation rooms in 34 municipal hospitals, allowing staff who are breastfeeding to receive a comfortable, private, well-equipped, quiet space to facilitate and accompany them at this time in their lives.