World
The first international cruise ship since the pandemic arrived – News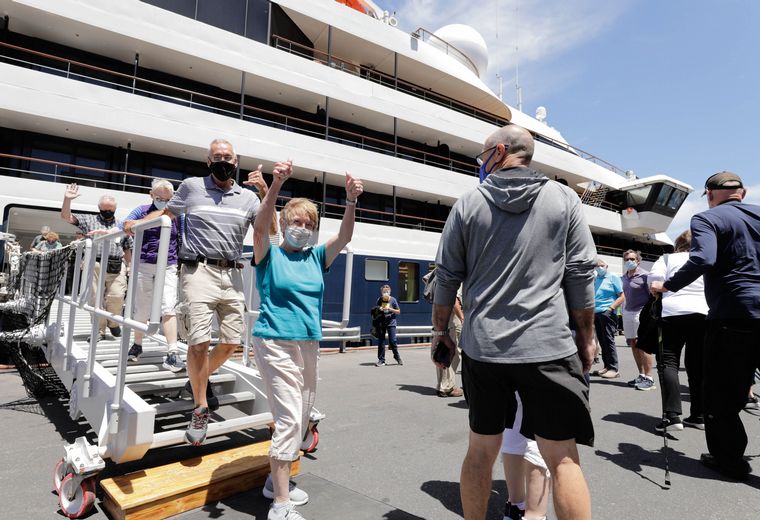 The ship "World Navigator" inaugurated this Friday the 2021/2022 cruise season when it arrived at the port of Buenos Aires with one hundred passengers from different European countries, the United States and Canada.
After the stop imposed by the Covid-19 pandemic, this is the first anchor of the 21 confirmed cruises for the season, which under strict protocols they will bring an estimated 30 thousand tourists from abroad.
/ Home Embed Code /
/ End Embed Code /
All of them will arrive at the port of Buenos Aires and on their itinerary they will then pass through Puerto Madryn and Ushuaia. Also, some of them will continue their way south to explore the Antarctic territory.
"We are very happy to welcome World Navigator, its crew and the 100 passengers who chose Argentina to visit us. This first cruise of the season in Puerto Buenos Aires is very good news for many merchants and entrepreneurs who they have an engine for their activities in tourism ", said the Minister of Transportation of the Nation, Alexis Guerrera.
This first arrival of the season to a local port, in a context of international uncertainty where many countries in the sector continue with their borders closed, is good news for Argentina and other destinations that are beginning to reactivate the economy, and specifically, the sector. tourist.
As part of the event, the exchange of plates was carried out between José Beni, as representative of the Ministry of Transport, and Vitaliy Tsylke, captain of the ship, due to the start of the season and because it was the first time that the "World Navigator" moor in the Port of Buenos Aires.
"It is an immense joy to receive cruise ships again. There were very difficult times for the industry and we worked hard to be able to move forward. The opening of the season is another sign of economic reactivation, since cruise tourism generates many sources of work and is fundamental for the different regional economies ", said Beni, controller of the General Administration of Ports.
Regarding the reactivation of air and land transport, it was reported that in the first days of November 370 international flights landed from Germany, Spain, France, Holland, Mexico, Switzerland, Turkey, Qatar, Bolivia, Brazil, Chile, Colombia, USA. , Panama, Paraguay, Peru and Uruguay, among others.
"That the entry of visitors begins to be activated through cruises, in addition to arrivals by plane and by land, as already happens, means continuing to promote an activity that is already growing strongly, generating employment and economic growth in many regions. of the country, "emphasized Minister Guerrera.