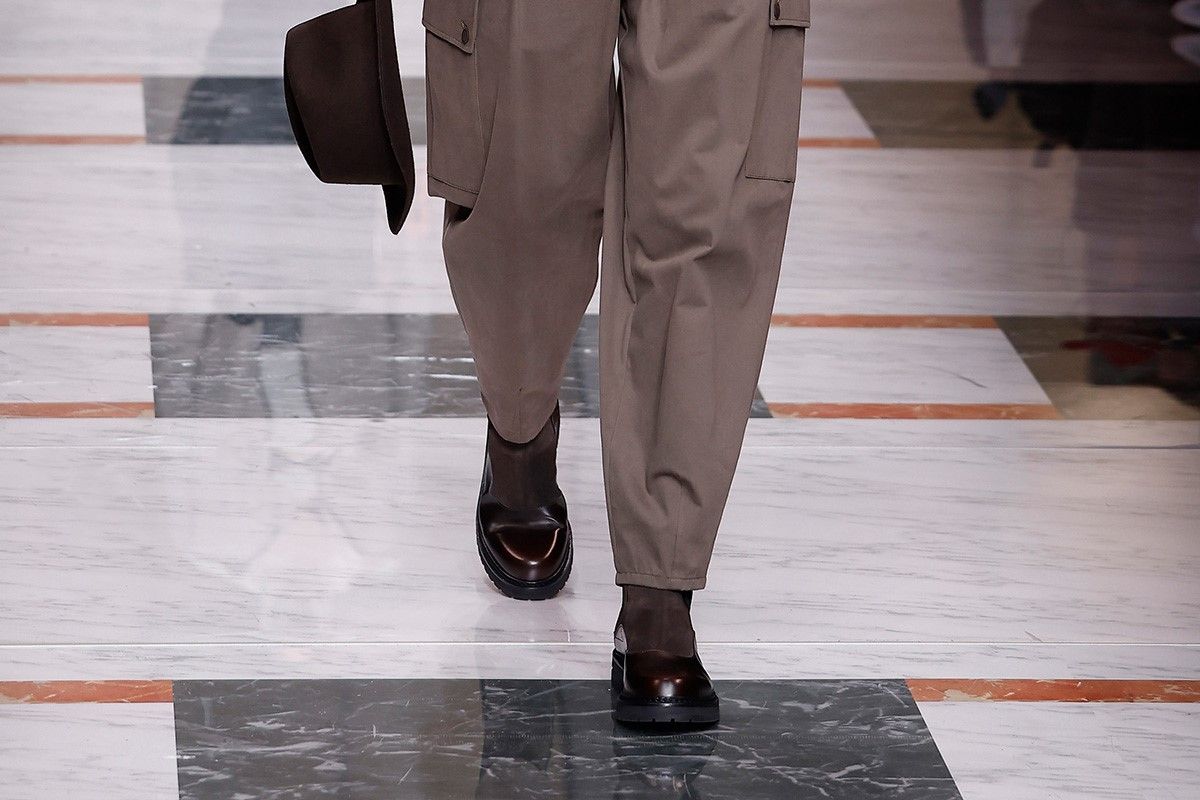 Giorgio Armani Men's Ankle Boots Fall/Winter 2023-24 show detail
It's easy to say ankle boots. In fact, there are many models that allow you to createinfinity of combinations. All the more reason to absolutely love them. The most famous, of course, are chelsea bootsfrom the name of the famous area of ​​London, where in sixties youth fashion was born, renamed in the golden years of the Fab Four also into the Beatles boots (in fact, the latter have some differences: they have a Cuban heel and a more elongated shoe shape). And it is on this model that we want to focus more.
Featuring a sleek, ankle-high top, leather and/or rubber soles, low heels and stretch knit details on both sides, sometimes replaced by a zipper, ankle boots, booties or booties if you prefer. are the type shoes with a long history, but always up-to-date design.
Men's ankle boots in the most classic design are easy to match and allow create exquisite and very attractive images. It can be worn with classic, elegant or casual trousers, wide cargo model, narrowed at the ankle. With skinny or regular jeans or flared jeans for the very fashionable outfits of the seventies, as well as Bermuda shorts or short, tight shorts, as dictated by the latest fashion catwalks.
And if the Chelsea boots really make everyone agree because no gender, practical, universal – perfect even in case of rain, above all one name: Blundstone – there are other models that we can't forget. For example, camperos, Texas-style cowboy boots, square-toe models, or models with large lug soles. Yes, some of you will say, but how do you match them? Here are some suggestions that come directly from catwalks and male celebrities who are style icons.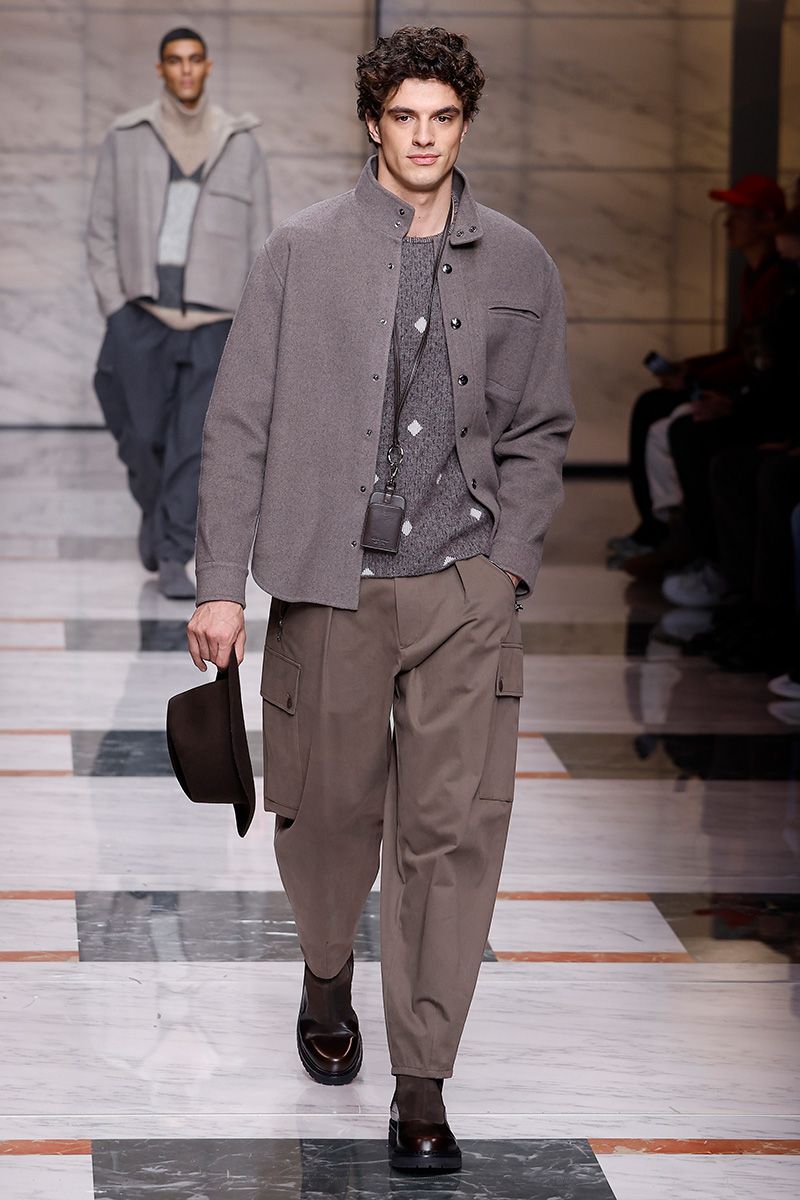 Giorgio Armani Fall/Winter 2023-24 (photo by Estrop/Gettyimages)
Brown Ankle Boots with Cargo Pants
A sophisticated interpretation of military style. These Giorgio Armani ankle boots in nappa leather and suede with a very light EVA sole are one of the flagship shoes of the brand's Fall/Winter 2023-24 collection. At the show, they were paired with tapered wool cargo pants and a cashmere blouson. layered over a soft and precious crew neck sweater with long sleeves. Instead of a blouson, you can choose a leather bomber or sheepskin aviator.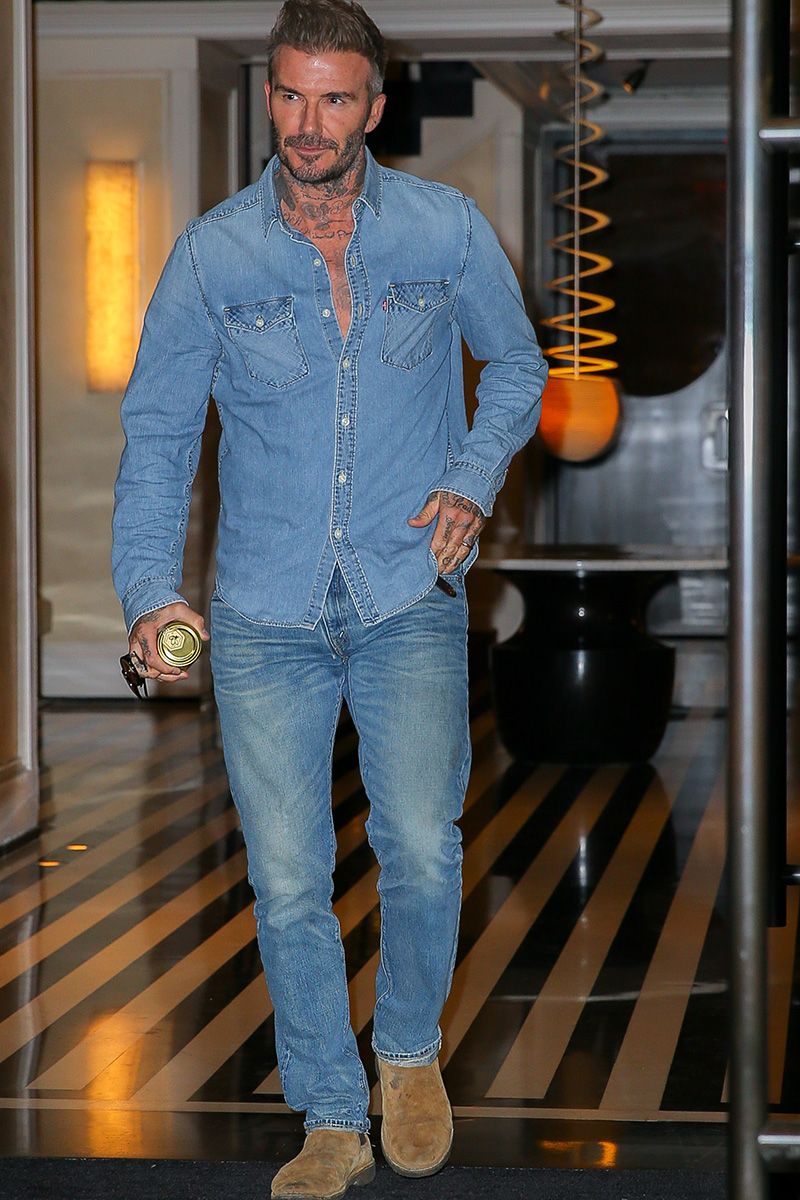 David Beckham in suede ankle boots and Total Look denim (Photo by MEGA/GC Images)
Suede ankle boots with jeans
David Beckham is also a fan of the denim Total Look. Yes, dressing head to toe in denim is always trendy, even better if you mix different types of washing. Ideal shoes in this case – instead of the usual sneakers! – And Warm suede chelsea boots with a worn effect.like those worn by the athlete and style icon.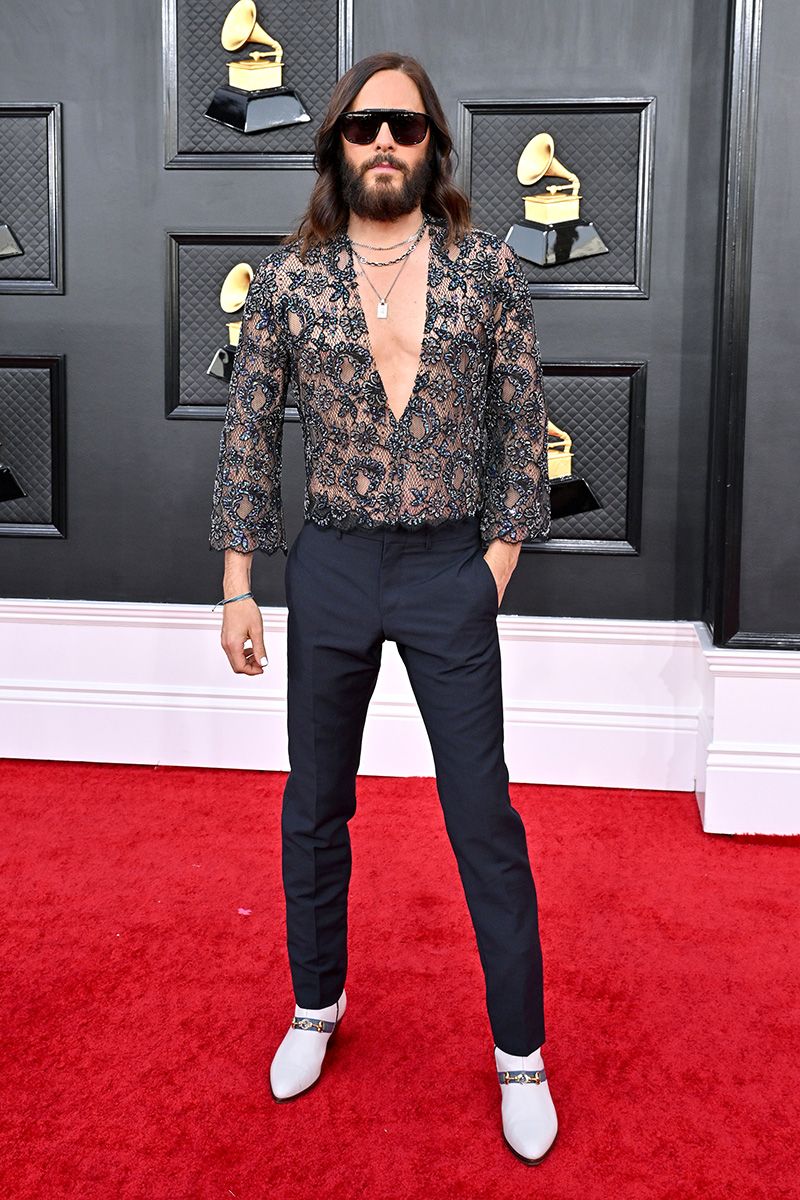 Jared Leto in white ankle boots and an embroidered lace shirt. Full Gucci look (Photo by Axelle/Bauer-Griffin/FilmMagic)
White boots and black trousers
The theatrical Jared Leto, dressed like a real Hollywood star, loves to surprise. Here we see how he combines some White Cuban Heeled Ankle Boots, Black Dress Pants and Plunging Lace Shirt and sequin embroidery. Beatles boots in white or ivory are very trendy and we suggest you pair them with black trousers (denim or wool if you don't want to risk too much choosing them in leather) because it is by far the best combination. But remember that they also look good with a smart burgundy or blue velvet suit.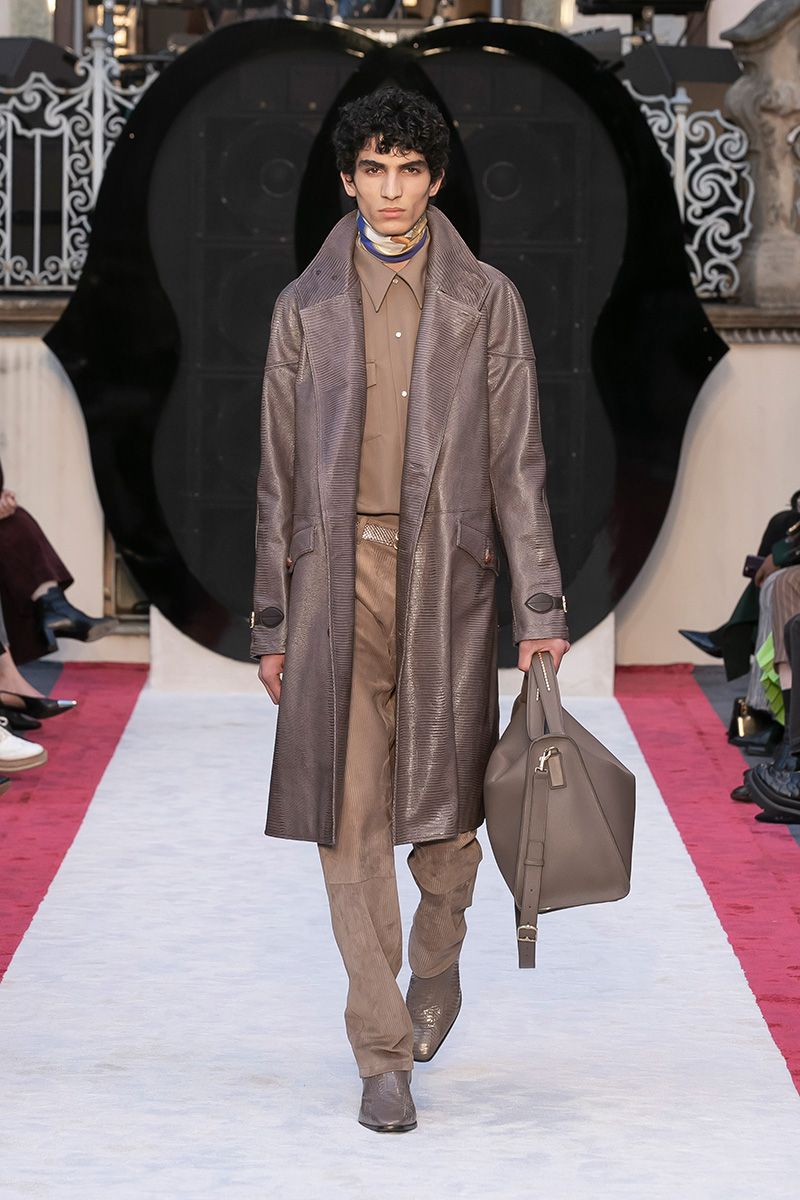 Bally Fall/Winter 2023–24
Texas boots with suede pants
A very sophisticated yet rugged look by Bally from the Fall/Winter 2023-24 collection. The protagonists: Boldly designed Texas boots in crocodile-print leather (the same material is chosen for the coat with a high collar and buckle cuffs) paired with suede trousers. Alternatively You might consider trousers in brown nappa leather or wide corduroy. olive or burgundy.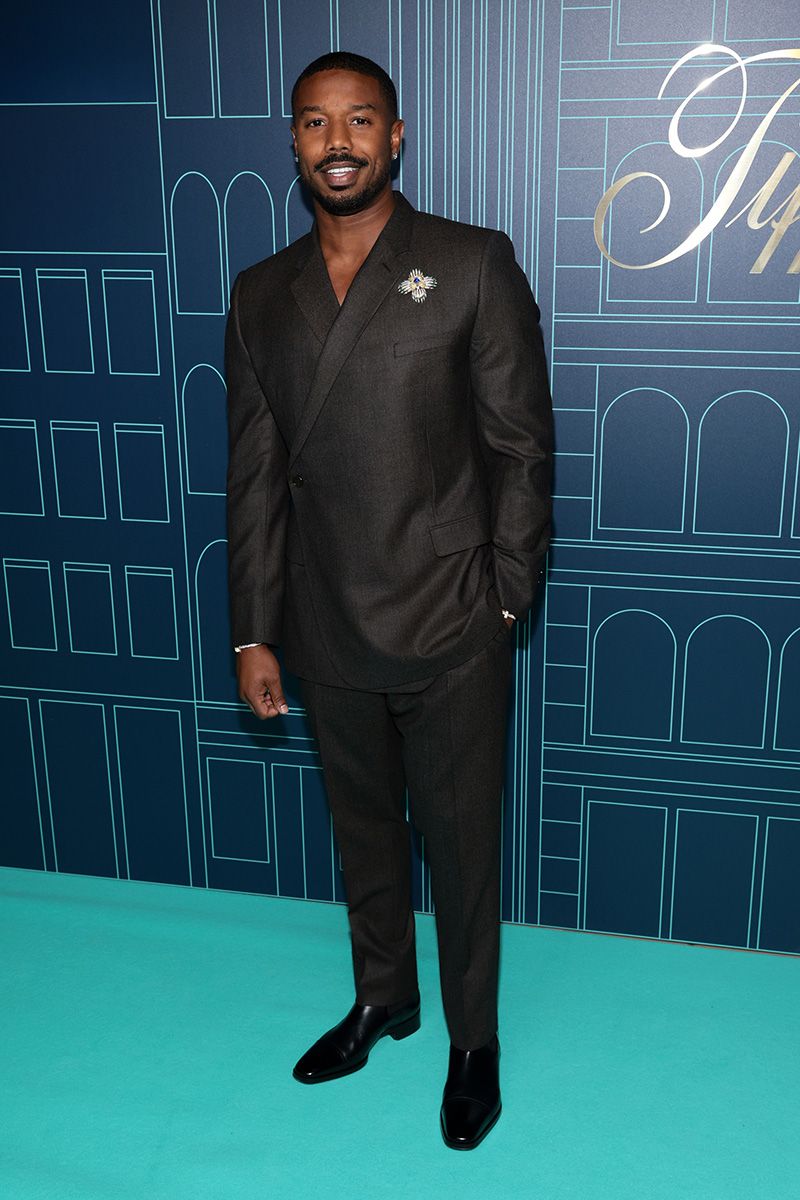 Michael B. Jordan in Dior and black ankle boots (Photo by Dimitrios Kambouris/Getty Images for Tiffany & Co.)
Black ankle boots and an elegant black (or anthracite) dress.
When it comes to style, Michael B. Jordan leads the way. The actor has been photographed countless times in ankle boots (yes, even in a tuxedo at the Oscars). We chose this strict and dry look from Dior – we want to talk about the beauty of the jacket. oblique suit adorned with a statement brooch from Tiffany & Co.? – because it is extremely refined and modern, with a choice of ankle boots with a very tapered line that does not "mark" trousers, and with a small heel. Why not imitate him at our parties? Instead of a brooch, the idea of ​​​​a colored silk purse is perfect.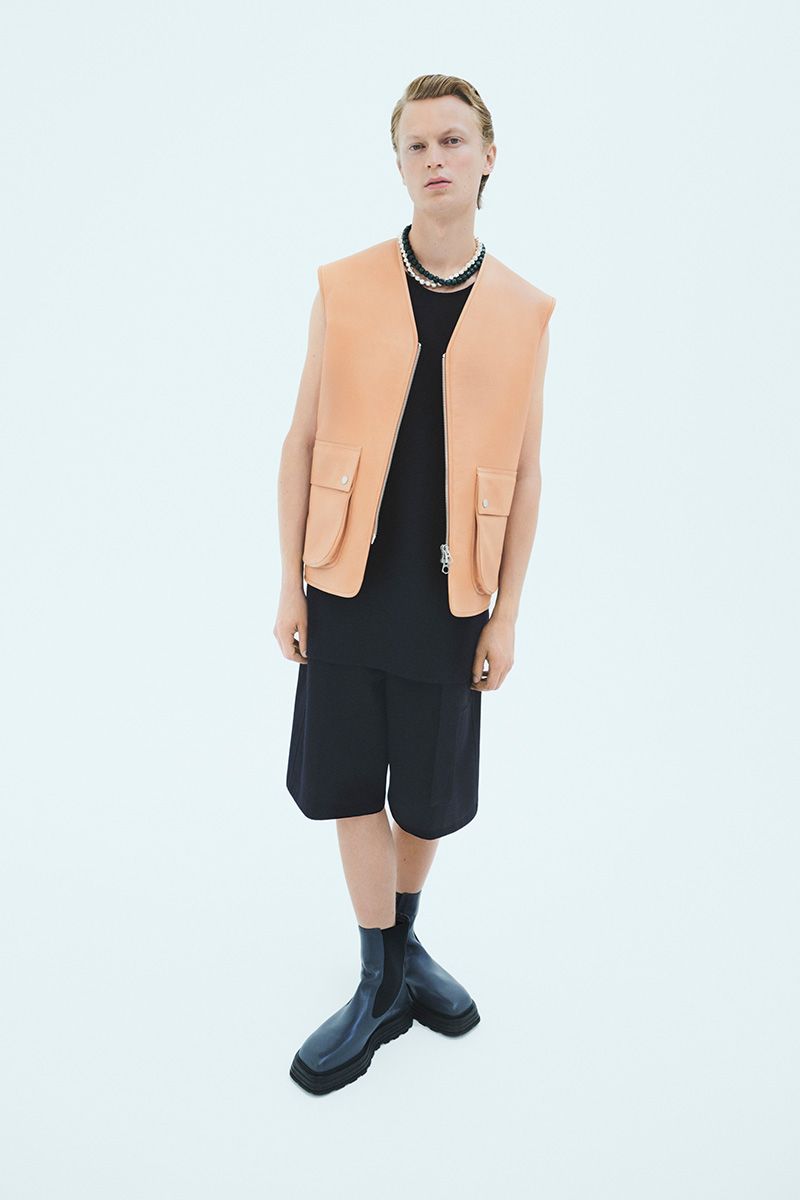 Jill Sander Resort 2023
Black Ankle Boots with Bermuda Shorts
Variations on a theme. When it comes to experimentation and men's ankle boots revisited by the great fashion artists, we can only question Raf Simons (with Prada), Gil Sander and Jonathan Anderson (for JW Anderson and Loewe). If you're looking for something different from classic (but beware: evergreen!) ankle boots, you might be inspired by the looks they wear on the catwalk.. We chose this look from Jil Sander's Men's Resort 2023 collection. Men are ready to show off their legs by pairing futuristic and outrageously shaped ankle boots with baggy Bermuda shorts and multifunctional vests or jackets.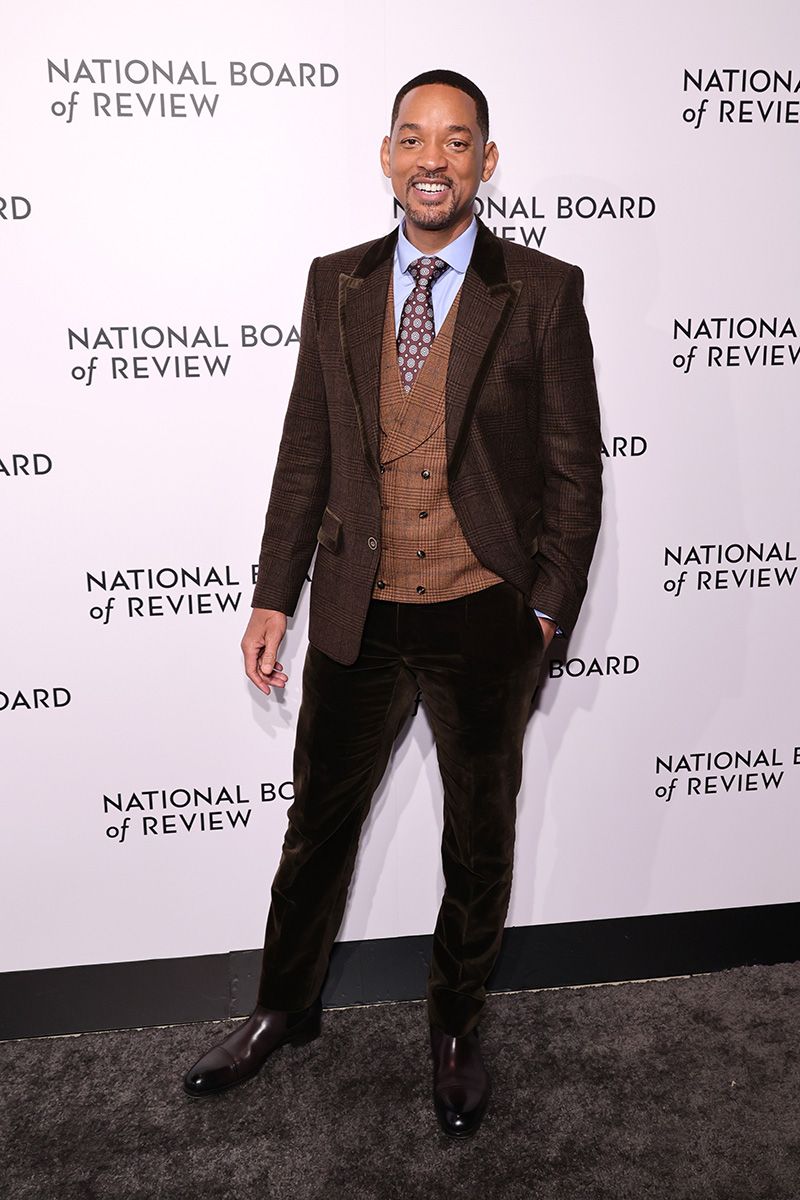 Will Smith wearing brown ankle boots, corduroy trousers, a Prince of Wales jacket and waistcoat (Photo by Jamie McCarthy/Getty Images for the National Board of Review)
Brown Ankle Boots with Velvet Pants
Will Smith dresses like a real Englishman and wears nice shiny Chelsea boots. Elegant, with a tie, waistcoat and jacket with velvet trim in the same material as the pants. The combination of dark ankle boots and sleek velvet trousers is really perfect. and we can only recommend it, especially if you have a tall and slender build. Alternatively, to recapture the mood of a male celebrity but make it more "country", you can opt for tweed or moleskin pants that can be slipped inside the boot.