Health
The infectologist Claudio Strasorier advised to change the health strategy and stop mass testing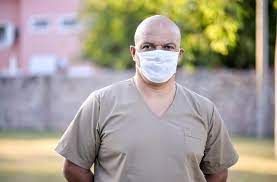 Through an interview with the province's health professional, the doctor stated that the human resource cannot be abused since it is quite narrow. He also declared that in February a decrease in infections could be observed.
14:08 | Monday, January 10, 2022 | La Rioja, Argentina | Fenix ​​Multiplatform
The infectious disease doctor, Claudio Strasorier spoke with Multiplataforma Fenix ​​and referred to the increase in cases of covid19. "Nobody thought that there would be an exponential increase in cases from this variant. This speaks to the contagion characteristic of Ómicron."
He also stated that due to the large increase in registered cases in the province, the health system is collapsed in terms of the demand for tests and vaccination and declared: "The amount of swabs and human resources must be put on the table now. "We have a very narrow human resource. We have to try to take care of ourselves, but at this point we have to change the Health strategy, we have to stop testing because when I am in contact with someone with symptoms, I simply have to isolate myself."
He also assured that due to the high percentage of vaccinated in the province, it is not necessary to test massively, since the infected can be monitored through virtual monitoring. "We have 90 percent of the population of La Rioja vaccinated with the second dose. In other words, a virtual follow-up is enough. Health personnel wear out and we have seen the personnel run over."
At the end of the interview, Strasorier declared: "I am almost certain that we will not have a tense system and on the verge of collapse. I think that we will have another week with a large number of cases, and by the end of the month we will see a decrease ".