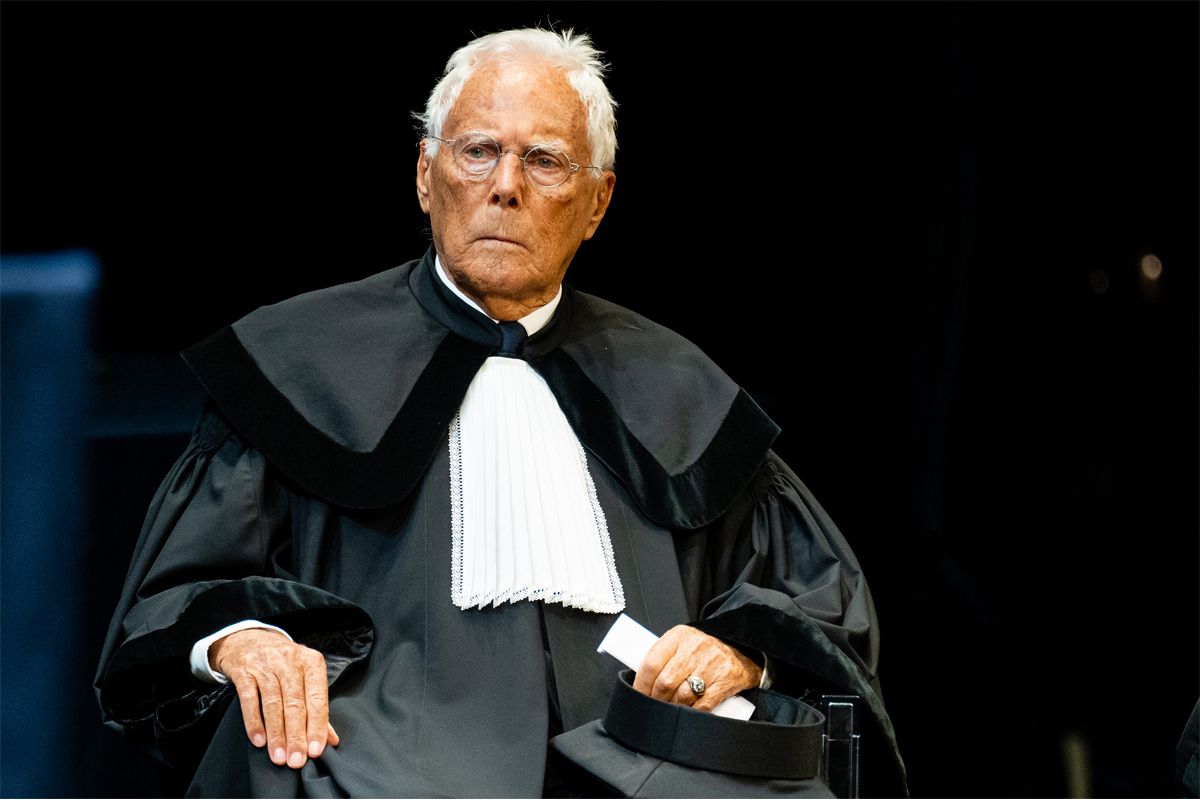 May 11, 2023: Giorgio Armani receives an honorary degree from the Municipal Theater of Piacenza. He was a pioneer of the Italian fashion system.
Those who work in the fashion system, as he writes Maria Laura Rodota, are the most visible part of the Italian economy. But who are these characters?
Armani, Prada, Versace: Made in Italy names
In 2022, more than 50,000 companies with around 600,000 employees and close to 100 billion euros in revenue worked in the fashion sector, according to Fashion Economic Trends CNMI. Among all workers in the industry, among the most notable are the following …
Giorgio Armani today appears the pioneer of the Italian fashion system. Through his intuition and his first collection, in 1977 Armani founded something that did not exist in Italy: industrial fashion. And it has evolved into a brilliant and innovative sector, which today clearly holds a leading position among other industrial sectors. The proof of this is that the Italian industry also produces French, English, American fashion …
Miuccia Prada who is the creative mind of the Prada brand. He revolutionized fashion by introducing bold styles and innovative concepts recognized around the world. Joined a company founded by her grandfather. Mario PradaMiuccia has continued the family legacy and transformed the brand from a traditional leather goods company into an avant-garde modern fashion empire. She is known for her unique approach to fashion. He brought elements of minimalism, intellectualism and audacity into his designs, challenging the conventions of traditional aesthetics. His, for example, Prada Nylon: the advent of the Prada line of nylon bags brought the concept of technical and innovative materials into the realm of luxury. Miuccia often incorporated intellectual and provocative concepts into her designs, using fashion as a vehicle to express cultural and social messages. He mixed classic elements with modern details, creating a contrast that has become a hallmark of his design. Collaborations with contemporary artists and architects have made his fashion shows and collections more engaging and innovative. She has expressed feminist positions in her collections and public statements, contributing to the gender debate and the empowerment of women in the industry.
Representative of the purest Italian fashion system, a traditional house bearing the voices of a family name, then Donatella Versace who, after the tragic death of his brother Gianni in 1997, assumed the role of creative leader in the company, of which his brother Santo was president for decades. An iconic figure in the fashion world who has had a significant impact on pop culture and the industry itself, his creativity, unique style and determination have helped keep the Versace brand relevant and influential on the international fashion scene.
The Italian fashion system also includes the duet Domenico Dolce and Stefano Gabbana. Known all over the world, they created a style Dolce & Gabbana representative of a sensuality that combines traditional and modern elements through the frequent use of bright prints and intricate details. From fashion to design to imminent real estate debut with two residential projects to be built in the US, Spain and the Maldives, they are the true voices of Italian creativity and entrepreneurship.
Historic luxury brands such as Gucci, Dior and Balenciaga travel between international financial and supermanagers no shortage of outstanding Italian names. From Alexander Mikhail former creative director of Gucci De Sarno Saturday current creative mind, nominated earlier this year.
The top list of the fashion system also got Italian Maria Grazia Chiuri who, after working in fendi AND Valentinewas named creative director of the house in 2016. Dior. This is the first time a woman has headed a Parisian house since designers of the caliber of Yves Saint Laurent, Gianfranco Ferre, John Galliano AND Raf Simons.
The designer is trusted to create ready-to-wear, haute couture, accessories and bijouterie collections. About advertising campaigns, store design, the overall image of the Dior world (Director of Dior Men – Kim Jones, Haute Joaillerie – Victorire de Castellane).
It's still Charles Capasa Italian fashion entrepreneur and president National Chamber of Italian Fashion (CNMI), an organization that represents and promotes the Italian fashion industry nationally and internationally. In this role, he established the Green Carpet Awards for sustainable fashion.
Last but not least, eccentric and bold style. Anna Dello Russo. Known for her role as fashion editor and creative director of Vogue Japan, she actually worked for Vogue Italia for decades and was the editor-in-chief of L'Uomo Vogue.
Today, she is known for her unique personality and commitment to taking the art of sewing to new levels of self-expression. In the fashion industry, she is valued for her creativity and ability to experiment. So much so that she is one of the most photographed personalities in fashion weeks thanks to her eclectic style.
They are weird, they are disgusting. They are great and constantly come up with trends and outfits that we don't understand and then look at us differently than the older ones say. In your opinion, they are strange. They don't bother us because we see trends and outfits on Instagram and TikTok, the younger ones say.
They may be strange, they work in fashion. They are part of the Italian economy, one of the most visible in the world, and besides, thanks to them, someone considers us a cool country. But for us poor Instagrammers who wear very wrong things, they continue to scare more than restaurateurs.
They scared me too when 20 years ago I went to Milan to make a women's magazine. I didn't understand much either, but I left with a certain amount of respect. For devotion to the cause of fashion, for hard work (the more the fashionista seemed crazy, the more he worked like crazy). For the corporate spirit, even if there were a lot of bodies and they strongly conflicted with each other (producing intrigues incomprehensible to most). And even if it required a certain framework for them. Even if it turned them into absurd, serious, monastic orders.
When I did Amika, I saw it in the division of women journalists. Those who dealt with current events were a pleasant crowd, dressed in the casual-funky-sora Cecioni style of the newspapers and periodicals. The representatives of fashion were an impeccable team of women dressed alike, a classy fraternity: one year in black, another in gray, the third in brown.
Miranda Priestley proved that it wasn't a whim, but a choice that makes the global market go round. The Devil Wears Prada with an explanation of the turquoise color of the sweater (no one remembers the name of the heroine Anne Hathaway, another victory for Meryl Streep).
The fact that this is a serious work demonstrates the character of Stanley Tucci, an example of dedication and self-sacrifice. His colleagues today work more and earn less. They are always strange, and in bad times they are the necessary opposition to all strangeness. And they turned Milan into the most unbearably fashionable and free Italian city.