Showbiz
The music of mourning: Martín Carrizo, drummer for Indio Solari and Caramelito's brother, died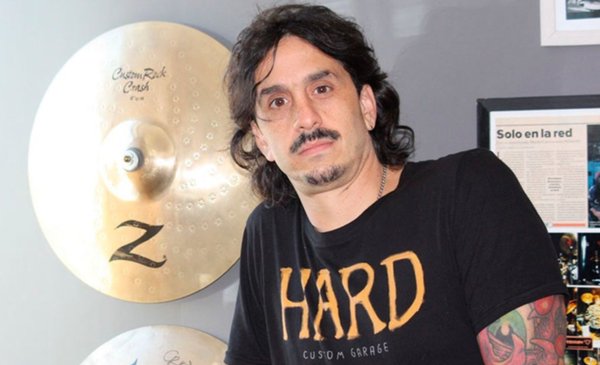 Martín Carrizo, drummer and producer with a long history in Argentine rock, who was a member of ANIMAL and accompanied Indio Solari and Gustavo Cerati, among other great figures, died this morning at age 50, after a long fight against amyotrophic lateral sclerosis (THE A).
This was reported through her social networks by her sister, the television host Cecilia "Caramelito" Carrizo, with a meaningful message accompanied by a photo of both when they were children.
"Please tell me where I am going. Thank you dear ones for so much love, help and unconditional support. You did very well every day, infinite thanks. Martín passed away today January 11 at dawn. His love, his smile, his music remains in us forever, "his sister posted.
On January 3, the artist had a birthday and had crudely manifested himself on social networks, with a message in which he affirmed that he believed that he would not arrive alive on that date. A month before, he had expressed in the same way that he was living "hell" and that he could not take it anymore.
The musician had tried an expensive treatment in the United States that had improved his motor skills, thanks to the help of many of his colleagues who organized concerts to raise funds, but had to abandon it due to the impossibility of continuing to finance it.
Carrizo had been diagnosed with this disease when he was part of Los Fundamentalistas del Aire Acondicionado and, little by little, he was forced to abandon the activity due to the advance of the ailments.
Until then, the drummer had a rich career, with participation between 1994 and 1997 in the most successful stage of ANIMAL, to later be part of the guitarist Walter Giardino's band, until he finally ended up in Gustavo Cerati's group that recorded the acclaimed album "Bocanada".
Since 2007 he was part of the Indio Solari band, from which he left in 2017, before the remembered show in Olavarría, on the grounds that he suffered from a disease that "prevented him from playing."
Months later he revealed that he suffered from ALS and his groupmates began a solidarity crusade to raise money for his treatment. It was the beginning of Los Fundamentalistas del Aire Acondicionado as a live group without the presence of its maximum leader.
Despite the progress shown on social networks with the treatment, Carrizo had to abandon it due to its high cost. Finally, in recent weeks, the musician had given indications of the imminence of the outcome when he commented on his sufferings, revealed that he could not take it anymore and had been surprised to have reached his birthday alive.
In December, he addressed his followers with the following text: Hello, my love! I'm in the same hell, too exhausted, to be able to graphically explain 1% of what I feel all day. It is as if I were lying on the floor and an elephant was standing on top of me without moving and one of its legs was on my face, to that we added the pain in my ankles, feet, hands, wrists and veins ".