Showbiz
The pianist Eudosia Salustros is already an outstanding citizen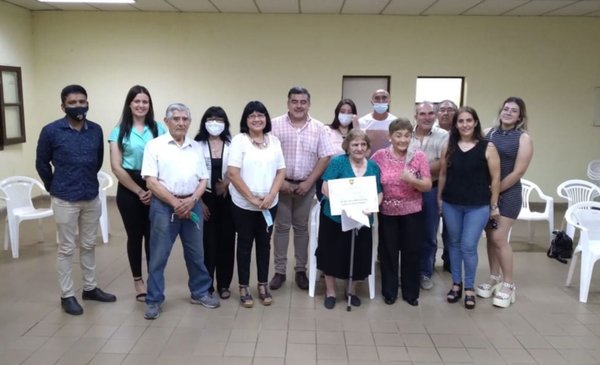 Her contribution to art and cultural development is undeniable and is affirmed by the residents of General Mosconi and Campamento Vespucio, and also by parents and students from all over the north who were lucky enough to learn from this soulful teacher, who will turn 83 this year. and that every day of his life he gets up to teach music and also to create.
For Professor Eudosia Salustros de Aguirre, composing new melodies, making them born from one of the 5 pianos she has in the different rooms of her modest but warm home, is life itself.
Her unavoidable commitment is also with the choir of the chapel of Campamento Vespucio, which has had her as its director for years, logically in recent times with the restrictions typical of the pandemic, which has not taken away Eudosia's enthusiasm or enthusiasm. to contribute from her role as a music teacher, with the culture of her people. And she does it with so much energy that anyone who hears her play a Venetian waltz, a tango, a sonata, hum a melody or remember countless anecdotes always related to art, awakens the desire to learn because she transmits with everything. its being the love of music.
Almost at the end of 2021, the members of the General Mosconi Deliberative Council, a town where she has lived since her youth when she arrived already received as a teacher to work at the Sargento Cabral school of Campamento Vespucio, gave her a very deserved recognition that filled her heart: They declared her Outstanding Personality.
The act was simple, but for Eudosia, her family and her students, it had immense significance because her contribution to the culture of the north was institutionally recognized. This simple woman, when talking about music, becomes a teacher with an overwhelming personality who wants her students to learn even a little of what she knows so much but, above all, to learn to feel what a good melody can do in their spirits.
Love of music
Every afternoon, Eudosia's house is filled with music, while her husband Amadeo, her lifelong companion, accompanies her from the patio full of aromatic, fruit and ornamental plants that he cares with such devotion and patience.
"Do you want to play April 7, or do you want us to take out the Czardas de Monti?", Eudosia proposes to one of his students; the girl looks little less than terrified those scores that seem impossible to read.
It may be the work of Andrés Chazarreta or Vittorio Monti -which Eudosia practically touches them by heart-, the ones that are left to the choice of the students but to make them overcome fear and convince them that with practice – a lot of practice – everything can be achieved, the teacher has an infallible method. He sits down at the piano and plays them masterfully. And so in each class, the works of Federico Bach, Amadeo Mozart or Louis Van Beethoven or so many Argentine composers are present in all their splendor.
Eudosia sits next to each student and little by little she advances in the score without leaving details to be read and transmitted. It has so many musical bibliography, many already with yellow leaves, that each one is part of a bibliography and each bibliography of a collection depending on whether they are classical works, national folklore, city music, waltzes, scores or two or four hands, etc. etc. And each one represents for her a moment in her prolific life as a pianist and teacher.
"Do you know how I met Amadeo? At the YPF Social Club, I was a teacher and he danced in the folk ballet," he says with a wide smile and that is how it is understood that after so many years they are still so close, so ingrained. Eudosia and that man whose name is precisely Amadeo, like a game of destiny.
Amadeo has, in addition to his plants, another passion: he manufactures handmade drums of all sizes. Sitting in the gallery, he preps each percussion instrument for hours before releasing it for sale, with a peace in his gestures and in his gaze that slightly contrasts with that rather overwhelming personality of his wife.
Daughter of a father and mother of Greek origin -Karanicolas and Salustros-, and descendants of those families that at the beginning of the last century came to populate the north, Eudosia studied piano since she was a child with her twin sister Constantina, in the town of Boat, land of many of the immigrants of that origin. At 18, both girls were excellent pianists and their parents sent them to study for normal teachers in the city of Salta, at the Colegio del Huerto.
In 1958, she returned to Vespucci, already received as a normal teacher and, of course, as a music teacher, when she was 18 years old.
What a marvel it must have been to see these two girls, young years later, playing some musical piece with 4 hands and giving those concerts, a custom that was lost over the years. For 18 years she taught music at the Vespucci school ad honorem, in addition to working as a grade teacher until she retired.
How could it be otherwise, Eudosia taught art to her five children, one of them a music therapist, another a renowned teacher from the capital of the province and César the youngest of her children, also a musician, singer and pianist.
From her children, her grandchildren learned art and thus Eudosia continues to leave her indelible mark behind her and that is how she recognizes it "when I teach music or sit at the piano, the hours do not pass, time stops; I love what I do and I want to do this every year that I have to live because my family and music are my life. "