The Plane, an adrenaline-pumping action film starring Gerard Butler as a flight commander who has to make an emergency landing in one of the most dangerous places on Earth, arrives on Sky for the first time on Monday 17 July at 21.15pm on Sky Cinema Uno (and at 21.45pm on Sky Cinema Collection – Gerard Butler Mania), now available for streaming and on demand. The film will also be available on demand in 4K on Sky. The film also stars Butler, who plays Brody Torrance, as well as Mike Colter, who plays Louis Gaspar, an unlikely ally in the pilot. Directed by Jean-François Richet, while the screenplay is by Charles Cumming and JP Davis.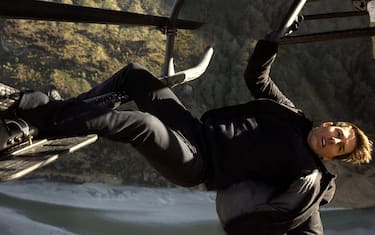 deep
Sky Cinema lit up with Tom Cruise's Mission Impossible
plot of aircraft
During a severe storm, Captain Brody Torrance (Gerard Butler) rescues his passengers by making an emergency landing. However, when the plane lands on an island ravaged by war and for the group held hostage by dangerous rebels, it's the beginning of a real nightmare. The only person Torrance can trust is Lewis Gaspar (Mike Colter), a man accused of murder whom the FBI is taking on their flight. Will our captain be able to save the passengers and escape the island?
Sky Cinema Collection – Gerard Butler Mania
From Monday 17 July to Sunday 23 July, on this first TV occasion, Sky Cinema Collection – Gerard Butler Mania (Channel 303) highlights the iconic actor, with a program dedicated to his filmography.
Among the planned thirteen titles: the first and third chapters of the action saga in which Butler plays a CIA agent, Attack on Power – Olympus Has Fallen and Attack on Power 3, both with Morgan Freeman; film with Frank Grillo and Alexis Louder Copshop – a firefight that breaks out between an assassin, a clever thug and a rookie cop; in the lair of wolves where a special team from the police department is responsible for defeating a gang of robbers; the atmospheric true-life thriller The Vanishing, starring Peter Mullan; Alex Proyas's action-fantasy Gods of Egypt with Nikolaj Coster-Waldau, the wild romantic comedy The Ugly Truth with Katherine Heigl and The Bounty Hunter with Jennifer Aniston.
The Plane – Monday 17 July at 21.15 on Sky Cinema Uno (and also on Sky Cinema Collection – Gerard Butler Mania at 21.45), Streaming NOW and available on demand. On Sky, the film will be available on demand in 4K for Sky Q or Sky Glass customers with the Sky Cinema package and with the Sky HD/Sky Ultra HD option service activated.
(tagstotranslate)Sky Cinema