Incredible story featuring a UFC fighter Temba Gorimbo and actor and now former wrestler Dwayne Rock Johnson, where the latter wanted to do really heartfelt gesture against a novice fighter, following him first victory and after listening sad story that has accompanied him up to this point.
Gorimbo's life was continuous overwhelmed by misfortunewith the loss of his mother at the age of 9, his father at the age of 13, and various situations that caused him to make desperate gestures such as illegally tried to mine diamonds in Zimbabwewhich led him to be severely attacked by guard dogsuntil he bled to death with scars to testify.
The whole story was said after his first official win in a UFC welterweight fight, which he claimed right up to the fight, his bank account was only $7 and the money earned at the meeting is the only thing that will allow him to survive. By sharing these details of his life publicly in interview after victoryfocused more on thanksgiving and wanting to return to his family than showing off, attracted the attention of such an important character as The Rock, who decided not to be silent before his story.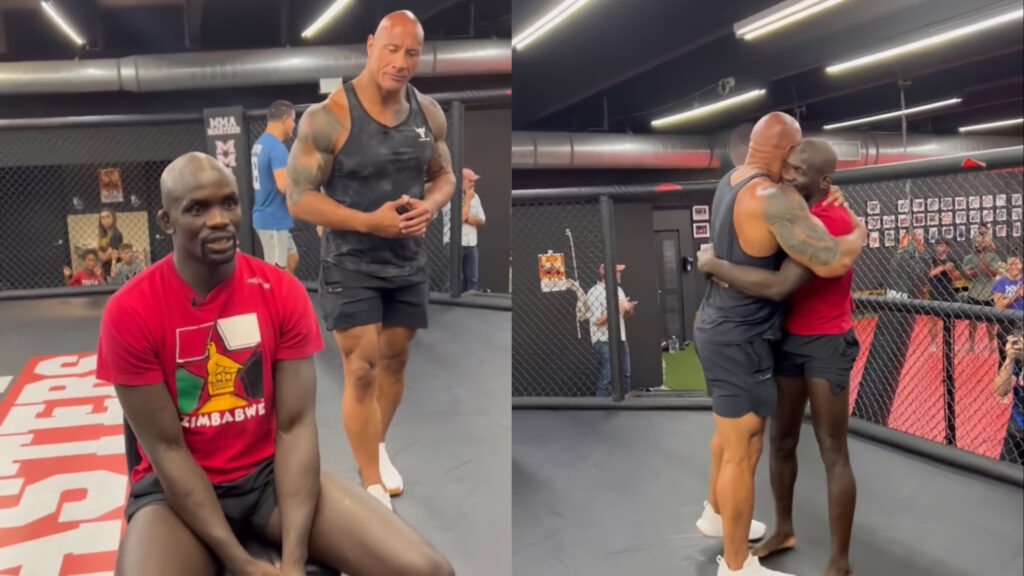 An important gift from his idol The Rock
Dwayne Rock Johnson, through his official profile, wanted to respond to the story shared by the wrestler, which caused the latter extreme joy considering that he he was one of his idols since childhood. Later, during a second interview, Rock himself decided visit it to celebrate the victory together. What the guy didn't expect was that the actor's plan was different.
After hearing the story of a Zimbabwean wrestler that he was forced to sleep on the couch in the gym due to lack of money, The Rock decided a much more cordial gesture than a simple meeting with him, making a decision a week later than take it to a friend's house under the pretext of a joint celebration. As soon as we got to this beautiful house, the game continued for several minutes until Temba noticed a photograph placed on a closet.
What initially seemed to him the football player Sadio Mane, in fact it was himself along with his family, which left him speechless, causing him to turn to the Rock in confusion. Only then did Johnson decide to reveal to him that this was his new home with which he could live with his family, already fully paid for and in fact present for their part, touched by its incredible and difficult history. This home will allow him to move his family from Africa to Miami to continue supporting Temba.
This gesture made the wrestler crying and hugging in gratitude to The Rock, who wanted to re-emphasize how connected he is to his history, as he himself went through some really dark periods in his youth before embarking on a career as a wrestler. This blessing towards him allowed him donate all proceeds from winnings to the construction of new wells in his village in Zimbabwe, will also be dedicated to Duane, already promised Dear from Temba.