Business
They prohibit buying tickets abroad in installments «Diario La Capital de Mar del Plata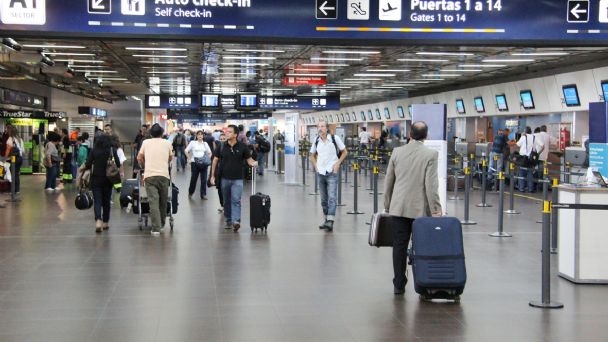 The Central Bank (BCRA) today limited the financing of purchases in installments with credit cards of tickets and tourism services abroad such as accommodation, excursions and transport rental, among others, both directly or paid through travel agencies, web platforms or other intermediaries.
The measure was adopted through Communication "A" 7407 and will take effect tomorrow.
"Financial and non-financial entities issuing credit cards should not finance in installments purchases made by credit cards of their clients – human and legal persons – of tickets abroad and other tourist services abroad (such as accommodation, rental of car, etc.), whether carried out directly with the service provider or indirectly, through a travel and / or tourism agency, web platforms or other intermediaries, "stated the BCRA in the document.
Before Telam's query, sources from the monetary entity explained that banks or card issuers will be able to finance these types of purchases in installments, although with a minimum annual rate of 43%.
"Sales of tickets abroad that are bought with credit cards must be paid in cash or, if it is with installments, with a minimum interest rate of 43 percent," the sources detailed.
The measure seeks to discourage the purchase of packages abroad given that, between 2011 and 2020, Argentina suffered a significant trade deficit due to tourism, which translated into a considerable outflow of foreign currency.
According to a report from the Center for Studies for Production (CEP XXI) of the Ministry of Productive Development, the deficit of income and expenses of the travel account through operations of the Single Free Exchange Market (MULC) accumulated between 2012 and 2020 was of US $ 47,800 million, according to BCRA data.
In this sense, the Government is promoting domestic tourism through the "Pre-Trip" program that rewards 50% of the consumption made in the purchase of tickets, accommodation, excursions and vehicle rental, among other services, for a moment up to $ 100,000 per person.
A month ago, the Central authorized banks to offer foreign tourists visiting Argentina the opening of a savings bank in pesos and dollars, with the idea that the accounts can be used for purchases in stores in pesos in the country and that way to capture part of the foreign exchange income that will enter legally through tourism.
Tourism is expected to be one of the engines of economic activity in the coming months and through which between US $ 5,000 and US $ 6,000 million enter each year, according to Indec data.
"A conservative estimate can be between 15% and 20% of the tourism that enters through this account. It increases the supply of formal dollars, improves tax collection ", sources from the monetary authority told Télam.
The idea is that banks can offer tourists a card preloaded in pesos against the dollars of the account, so that they can arrive at the hotel and have available, for example, the debit card of their account and thus avoid bringing tickets or avoid being scammed or being robbed when exchanging them for pesos at an illegal exchange house.
In this way, tourists will be able to access financial services for currency exchange, that is, they will be able to exchange their dollars through the capital market at the MEP exchange rate (currently at $ 200 per dollar), a better price than the of the official retail exchange rate that is $ 105 per unit and for which parking is not necessary, so you can have the pesos immediately.
"The tourist benefits because he does not handle cash, he does not have to go to a cave, he avoids the risk of assault or fraud with false coins. You can also benefit from any promotional campaign, for example for payments with QR or made by your entity ", explained from the BCRA about the measure.
However, the banks have not yet decided whether they will offer this type of product.
Industry sources confirmed to this agency that they are not clear if the costs of offering that product, in terms of specific product development, are offset by the mass of potential clients they could get.