Tedious, expensive, murky, eternal, dirty, this is how the endless divorce between Brad Pitt and Angelina Jolie, the actors who met in the film, has been described. Mr and Mrs smith and that for 10 years they formed one of the most admired and profitable couples in Hollywood. In 2016, just two years after they were officially married, they separated and in the limbo of their mutual reproaches were their six children, three adopted and three biological. Four years after their breakup bomb exploded, Brad Pitt and Angelina Jolie remain embroiled in a ruthless legal battle in which custody of the 16-year-old Pax; Zahara, 15; Shiloh, 13; and twins Kox and Vivienne, 12, are at the center of the differences that prevent them from reaching a final agreement. The eldest of his children, Maddox, is already out of what the courts have to decide because he is of legal age and can freely choose the type of relationship he wants to have with his parents, and for the moment he has opted for his mother.
A week ago the trial for custody began but this Monday the process that will definitively close the divorce of the couple and in Hollywood lies there is talk that there will inevitably be a winner and a loser. Brad Pitt asks for joint custody and Angelina Jolie does not seem willing to accept it despite the fact that after having requested sole custody of the children, alleging, among other reasons, Brad Pitt's problems with alcohol, it seemed that the tension between the actors had lessened and an agreement had been reached.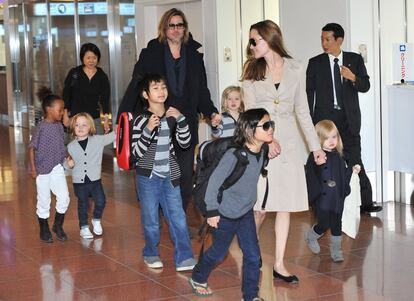 Last June Angelina Jolie stated that she separated from Brad Pitt for the "welfare" of her six children whom she described as "very brave and very strong", adding: "It was the right decision." The importance of what is at stake now is reflected, among other things, in the number of witnesses that the couple's lawyers will bring to the stand to present their testimonies for and against each other's claims. 30 witnesses are summoned to the trial and among them are experts in domestic violence, doctors, psychologists, bodyguards, friends, former colleagues and relatives. There is only one point that you both agree on and that is that neither of your children will be required to speak during the process.
Brad Pitt's goal is to achieve 50 percent joint custody and for this he has the support of the statements of 21 people. This team of experts includes Dr. Stan Katz, a psychologist who has already testified in Michael Jackson's child abuse trial, trauma expert Bren Chasse; Chief of Security William Thiel; Dr. Fred Luskin, an expert in guilt therapy; Melissa Brymer, director of terrorism and disaster programs at the UCLA-Duke National Center on Child Traumatic Stress. Also a neuropsychologist, a divorce psychologist, a professor of Clinical Psychology, a specialist in education, a domestic violence expert, two security guards, three personal assistants, a friend of the family and a woman believed to be a former nanny for the children.
However, one of the names cited by Pitt's lawyers that has most attracted the attention of the admirers of the couple has been that of the actress Jillian Armenante, who, as he explains Showbiz, was part of the cast of two films with Angelina Jolie: in 1999 Interrupted innocence, and in 2007 in An invincible heart, when Brad Pitt and Angelina were already in a relationship. Of the reasons her testimony is required, everything is unknown, including the type of relationship that binds Pitt to her or when he will take the stand.
Among the people who will testify in favor of Angelina Jolie's petition is herself and her ex-husband, Brad Pitt and five other people, a group much less numerous than the one that supports the actor's thesis because she is the one who has maintained custody of the children during the four years that the marriage has been separated and it has also been she who has put all kinds of obstacles so that Pitt could have access to the children. Angelina's objective follows the line of the argument on which she has based her separation and the relationship that the children have had with their father: that the actor is not a responsible person, although he pays all the living expenses that correspond to him, and that you consider harmful to your children.
It must be remembered that in the first moments of the separation Jolie accused Pitt of mistreating his son Maddox, of alcohol problems, of using drugs and of having self-control problems. The rapprochement between the actors in 2018 allowed Pitt to also partially resume his relationship with his children. Then, a person close to the actor commented: "Zahara's relationship with her father is especially good." The same source told the US media that there had indeed been a period of tension between the actor and Maddox, but that it had improved a lot. "He doesn't talk about it much. He is very discreet about his children (…) ", he added. Maddox was also asked a year ago about this matter on the occasion of his admission to the University of Seoul, in South Korea. "What has to happen will happen," he said. So he hadn't spoken to his father for three years
In February of this year the actor was not at the Bafta awards held in London, since his daughters Zahara and Shiloh had just undergone surgeries and he preferred to remain by their side. Pitt's personal life has also stabilized. His problems with alcohol seem to be overcome and new friends have appeared in his life that have helped him in the process. In this time, Brad Pitt has also done penance. He has told the world about his problems with alcohol. "I gave up everything except drinking when I started my family," confessed the actor, who also clarified that at that time he was "abstemious and in therapy." "He drank a lot. It became a problem. I am really happy that he has gone half a year without drinking, which is bittersweet because of what happened, but I am in control of my actions again, "he said in an interview in 2017. Since then he has remained sober.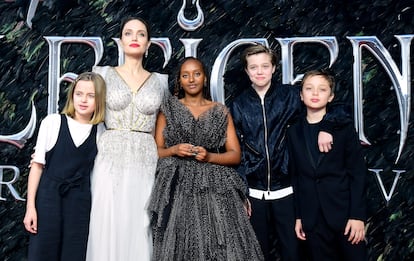 In December of last year, at a meeting organized by the magazine Interview, Pitt confessed to his colleague Anthony Hopkins: "I have not cried in 20 years and now, in this last stage, I am more moved. Moved by my children, touched by my friends, touched by the news. Simply moved. I think it's a good sign. I don't know where it takes me, but I think it's a good sign. " To which Hopkins replied: "As you get older, you will find that you just want to cry. It's not about pain, it's about the glory of life. "
Angelina Jolie, meanwhile, has stated that despite the four years that have passed since she separated from Pitt, she and her children remain focused on healing: "Some have taken advantage of my silence, and children see lies about themselves in the media, but I remind them that they know their own truth, " he told People. What does not seem to vary is his desire to remove his children from a daily coexistence with their father. To the point that the 45-year-old actress, who lives in Los Angeles, has threatened to move to London with her children. Brad Pitt thinks for his part that his ex-wife goes "too far" in her divorce proceedings, as revealed by the magazine Us Weekly in its latest edition. "He has no choice but to fight fiercely," revealed a source close to the 56-year-old actor.
The result of their fight will have an end soon and on what the Courts decide depends the relationship of five children with their parents and the decision of the sixth, Maddox, to resume or not the feelings that united him with Brad Pitt while they formed an extensive and admired family, who had a dark background that did not parade on the red carpets of the world.