Business
Ualá offers salaries of up to 339,000 pesos: these are the positions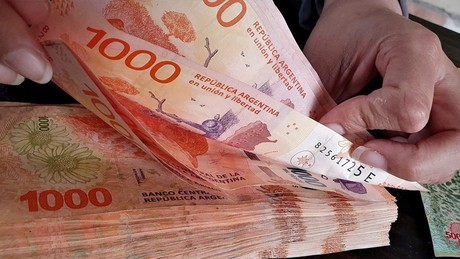 In total, there are 53 vacancies available. In Argentina, the search is divided according to the area and the sector of the company. How can you apply?
With more than 14,700 employees, the national fintech sector plans to incorporate 6,000 new employees in the country this year, according to a report by the Argentine Chamber of Fintech.
In this context, one of the fintech firms looking to expand their payroll is Ualá, the financial company of Pierpaolo Barbieri.
Currently, the company has 53 vacancies in the country, of which a high percentage is oriented to technological profiles.
Ualá is one of the financial technology firms that seeks to expand its payroll of employees
Regarding the work areas, they are the following:
Technology
Wanted .NET developers, technical-functional analysts, Android developers, BI analysts, data architects, data scientists, data engineer, DevOps engineers, Java and GO developers, iOS mobile application developers, solution architects, among others.
According to Glassdoor, a DevOps engineer in Ualá earns more than $ 219,000 and a software engineer exceeds $ 260,000 monthly.
Marketing
With three vacancies available, It seeks to hire analysts of strategic alliances, web developers oriented to marketing, coordinator of benefits and loyalty; and public affairs leader.
Operations
They are looking for seven people trained in financial and operational controls; and operational and transactional support.
Compliance
In this sector, look for regulatory compliance analysts; cloud security architects; facilitators; application security engineers; and security analysts.
Finance and payments
There are two vacancies for a management planning and control analyst; and a product and safety analyst. On average, an analyst earns around $ 145,000 monthly in Ualá, according to an anonymous posting from Glassdoor.
Human Resources
In the human resources area, they are looking for specialists in talent acquisition, "hard" Human Resources analysts and Payroll analysts.
Currently, the company has 53 vacancies in the country
Ualá Bis
Looking for a leader of the merchant segment, to work on the payment link generation service that works from the application. People use it to send a link to their customers by any digital means and charge.
Legal
You need a legal manager with knowledge in regulation and structure of the Argentine financial system.
Product
In this area, there are open positions for product analysts, product owners, product data analysts, product designers, and visual designers. All vacancies are aimed at semi-senior or senior profiles and the main requirement is to have previous experience in a similar position. According to a survey by Glassdoor, a product owner earns between $ 218,000 and $ 339,000 in Ualá.
Projects
You have two job openings to hire a project manager with at least twelve years of experience in similar positions. The requirements are to have strong negotiation and persuasion skills, to be able to lead and manage people not directly subordinate to your team.
How can you apply?
The list of jobs is available on the company's website. In case you want to apply for a position, you have to click on the vacancy and fill out a form with your name, surname, email, phone, resume, LinkedIn profile and write a personal note. Finally, select "submit application" to submit the personal data.