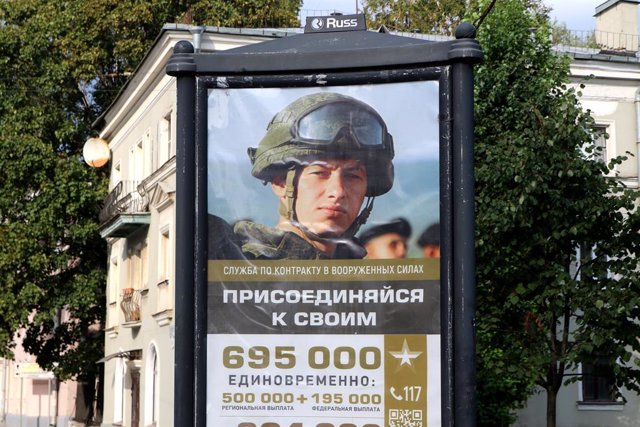 Saint Petersburg, Russia, September 12, 2023: A billboard depicting the services of the Armed Forces of the Russian Federation is engraved on the streets of Saint Petersburg. – Europa Press/Contact/Maxim Konstantinov
Madrid, September 13 (European Press) –
Russian Defense Minister Sergey Shoigu on Wednesday approved a list of 26 diseases that will prevent Russian citizens from registering for military service during mobilization within the framework of the war in Ukraine.
The order states that people suffering from HIV, hepatitis B and C, any type of tuberculosis, heart disease, diabetes, stroke or bronchial asthma will not be accepted for military service, Tass news agency reported.
Citizens suffering from these diseases (belonging to the so-called Category B) are exempt from compulsory military service in peacetime and remain in reserve status and cannot be called up for training.
Ukraine decided at the end of August to change a policy that would allow the recruitment of Ukrainian citizens suffering from diseases such as HIV, tuberculosis or hepatitis, UNIAN news agency reported.