Health
UNPSJB Medicine Students carry out field work in the CAPS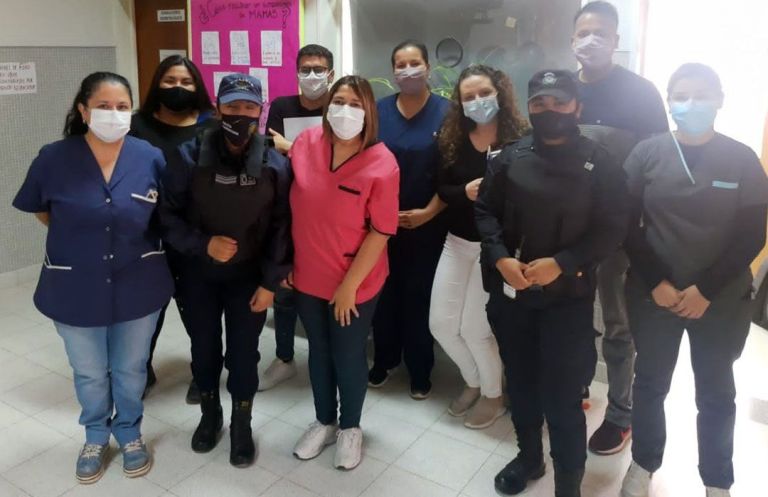 From the Chair of Health Promotion, students are doing internships at CAPS of the city and carry out field work to later provide a balance and recommendations to the institutions.
In the midst of a job that seeks to contribute to the training of students and leave a contribution to institutions, medical students at the National University of Patagonia San Juan Bosco (UNPSJB) are doing field work through Primary Health Care Centers (CAPS) of the city.
In this sense, the coordinating doctor of the CAPS of the Jorge Newbery neighborhood and professor of Epidemiology, Health Promotion and Public Health I, Claudia Hurtado, explained to Crónica on the subject "we are doing a joint work with the university to contribute to training of the students of the Medicine career, an attempt is made to address the issues of health promotion, which is one of the subjects we have. There is a lot of enthusiasm from the boys and it is a huge task, so we take advantage of this because the professionals who are trained in universities with great careers long ago were trained with another model that did not take into account the promotion and prevention of health ".
Pandemic
In this way, he stated that due to the pandemic during 2020 and part of 2021 they could only have classes virtually and now the field work is being done with the 54 students who take the subject in a total of five health centers, " They do a beautiful job and there are excellent reports that they prepared with recommendations for the teams in the centers. This week they will have to make the return to the teams, "he specified, mentioning that they also collaborate with the training of students from other careers such as Nursing.
"The work they did is to put into practice in the health centers what they learned during the course, their mission is very important because they have to give a return of the field work with recommendations to the work teams in prevention, treatment factors of risk, communication in health for preventive medicine, doctor-patient relationship and a lot of aspects about the daily work of the teams that work lung, with the resources that exist ", explained Hurtado and valued that the passage of the students makes them open to new concepts and innovations in the field of health promotion, "the reference is Dr. Sergio Jaime who is in Trelew where he lives and works and was our teacher, together with him we are innovating all the time in everything that has to do with promotion, trying to work with the latest information so that students can help and collaborate in the theoretical support of what we do on a daily basis ", he pointed out.
function toogleSeachBar() { if ($('#searchBar').is(":visible")) { hideSearchBar(); } else { showSearchBar(); } } function showSearchBar() { $('#searchBar').show(); $('#menu, .header-scrolled-container, .header-scrolled-container2').hide(); } function hideSearchBar() { $('#searchBar').hide(); $('#menu, .header-scrolled-container, .header-scrolled-container2').show(); }
$(document).ready(function () {
setTimeout(() => { window.fbAsyncInit = function () { FB.init({ appId: '2182326781990927', autoLogAppEvents: true, xfbml: true, version: 'v8.0' }); };
(function (d, s, id) { var js, fjs = d.getElementsByTagName(s)[0]; if (d.getElementById(id)) { return; } js = d.createElement(s); js.id = id; js.src = "https://connect.facebook.net/es_LA/sdk.js"; fjs.parentNode.insertBefore(js, fjs); }(document, 'script', 'facebook-jssdk')); }, 3000);
});