Deaths from the new coronavirus in the United States exceeded 150,000 on Wednesday, the highest level in the world, rising by 10,000 over 11 days, according to a Reuters count.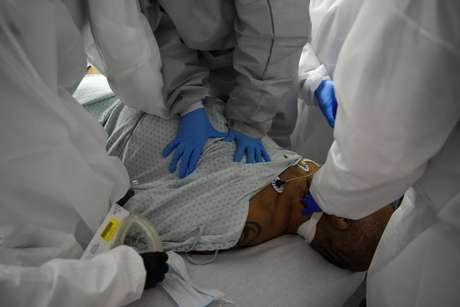 The doctor performs cardiorespiratory resuscitation in a patient infected with the new coronavirus at the Memorial Medical Center in Houston.
That was the fastest increase since the country went from 100,000 to 110,000 cases in 11 days in early June, according to the count.
Nationally, deaths from COVID-19 have grown for three straight weeks, while the number of new weekly cases has recently dropped for the first time since June.
A rise in infections in Arizona, California, Florida, and Texas this month filled hospitals. The increase forced states to rethink the reopening of the economy, which was impacted by quarantines in March and April to curb the spread of the virus.
Texas is the state with the highest number of deaths in the country this month, about 4,000 deaths so far, followed by Florida, with 2,900, and California, the most populous state, with 2,500. The Texas index includes an accumulation of hundreds of deaths after the state changed the way Covid-19 accounted for deaths.
Although deaths increased rapidly in July in these three states, New York and New Jersey still lead the country in total lives lost and deaths per capita, according to a Reuters count.
Of the 20 countries hardest hit by the virus, the USA ranks sixth in deaths per capita, with 4.5 deaths per 10,000 people, surpassed by the United Kingdom, Spain, Italy, Peru, and Chile.