World
Violent protests in Solomon Islands alert China and Australia | The World | DW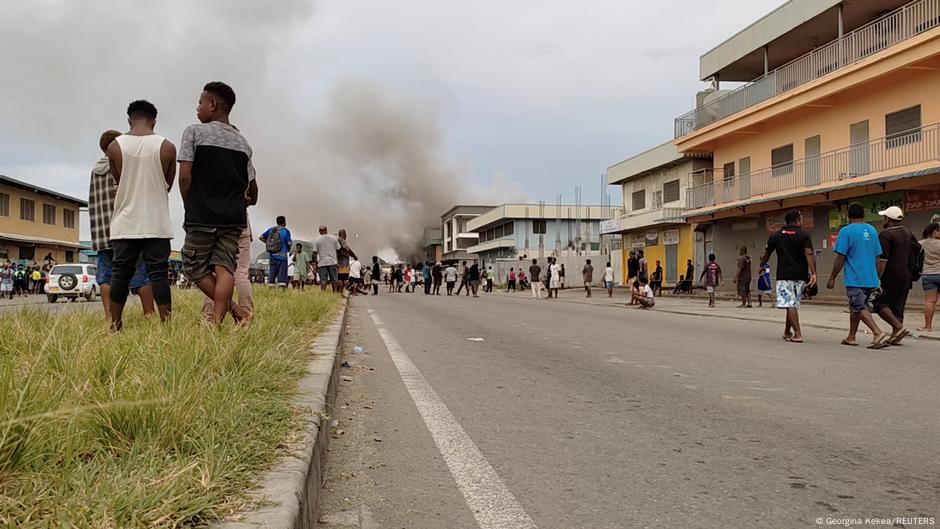 For the second day in a row, thousands of people took to the streets this Thursday (11/25/2021) in the Solomon Islands, in Oceania, to demand the resignation of the prime minister. The demonstrations have risen in tone and this day several buildings were burned -a police station among them-, and there was even an attempt to take over Parliament. Against the background of this situation are China and Taiwan.
Prime Minister Manasseg Sogavare decided in 2019 to sever relations with Taiwan and recognize the government of Beijing. This caused unrest in the population, which has strong ties to Taipei, anger that was unleashed this week especially among the inhabitants of the neighboring island of Malaita. They also complain of neglect by the authorities of Honiara, the capital of the Solomon Islands.
Eyewitnesses and local media indicated that a crowd defied the curfew decreed by the government and took to the streets. Live footage showed several buildings on fire, with plumes of smoke rising into the sky. Sogavare vindicated himself at the head of the nation and lamented "a sad and unfortunate event that seeks to overthrow a democratically elected government."
Target: Chinese community
In the unrest, protesters focused on businesses run by the Chinese community, prompting the Chinese embassy to express "grave concern" and call on the Sogavare government to "strengthen protection" for Chinese companies and personnel. .
The spokesman for the Chinese Foreign Ministry, Zhao Lijian, assured that he was sure that the Sogavare government would be able to "restore order and stability quickly," and said that the relations between China and the Solomon Islands have developed "well these two years." despite the fact that the communities have systematically rejected the aid programs sent by Beijing.
For his part, Australian Prime Minister Scott Morrison announced the deployment of military and police forces to maintain peace in the Solomon Islands, located about 1,500 km off its northeastern coast. "Our purpose here is to bring stability and security," Morrison said, noting that he had received a request for assistance from his Solomonian counterpart.
The Solomon Islands maintained diplomatic relations with Taiwan between 1983 and 2019, but in 2019 decided to recognize Beijing, whose regime considers Taiwan a rogue province.
DZC (EFE, AFP)