Health
«We already have 4 thousand registered for Medicine in Salta» – National Radio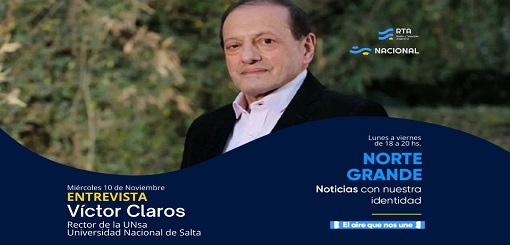 VICTOR CLAROS – RECTOR OF THE UNSA
JUMP
"We already have 4 thousand registered for Medicine in Salta"
"Very happy to have been able to obtain a medical degree in Salta. In 2013 I began the negotiations in Tucumán and Buenos Aires to see the possibilities of bringing this important career to our province. With the Dr. Mateo Martínez who was as dean, we achieved the classroom extension.
In 2019, also with the same dean, we continue to manage this demanded health career. And it is June and July of this year that the opinion comes out that indicates that we meet the requirements to have the SCHOOL OF MEDICINE here in Salta. Today with him Minister of Education of the Nation, Jaime Persik we had a more direct contact and with the contribution of the lieutenant governor Antonio Maroco, we achieved the national validity of the medical degree at the National University of Salta as of 2022.
I have enormous gratitude to the National University of Tucumán, they were makers of so many doctors from the different provinces of the NOA.
As rector, I had the opportunity to take technical courses and university extension to different municipalities in the interior of Salta.
The law career is pending. Although it is not easy, in 2022, when we finish accrediting the career of accountant in Tartagal there will be a new possibility to manage the career of Law for the UNSa.
I want to express with satisfaction that we also achieved more than 126 million pesos allocated to scholarships for studies and university dining. If there had not been a public university, I and many generations would not have had the opportunity to study. I have been a shoeshine and I come from a domestic servant mother. I am the first generation of my family to study
With the pandemic came virtuality. Today we have 1801 virtual classrooms, we have almost 40 thousand students and this year, due to the virtual opportunity there are already 23,500 pre-registered.
We recently gave a Wichí student from Mission La Paz the title of nurse. He told us that he studied and climbed a tree to get a signal. Notice how important virtuality is. We achieved 32 virtual student collations and they swore in from different countries.
On September 20, pre-registration began until January 31, except for medicine that closes on December 30 because the race itself starts on February 1. There is no entrance exam. We already have 4000 students enrolled in medicine. We made an agreement with the mayors so that low-income students have residence and food with the commitment that they return to their places to practice their profession.
The University of Salta is the second in the country to study water and air pollution. We have highly qualified human resources of which we should be very proud ", Victor Claros, rector of the UNSa in the program Norte Grande of National Radio.
PROGRAM Big north: LRA 4 Salta, LRA 8 Formosa, LRA 15 Tucumán, LRA 16 La Quiaca, LRA 20 Las Lomitas, LRA 21 Santiago del Estero, LRA 22 Jujuy, LRA 25 Tartagal, LRA 26 Resistencia.
General Production: LRA 15 Tucumán, LRA 16 La Quiaca, LRA 25 Tartagal, LRA 26 Resistencia.
Edition: LRA 26 Nacional Resistencia
Monday to Friday from 6:00 p.m. to 8:00 p.m.
WEB: Josefina Adrover