World
World Day to Combat Depression: "I am in a constant state of alert", the challenges of living with this disorder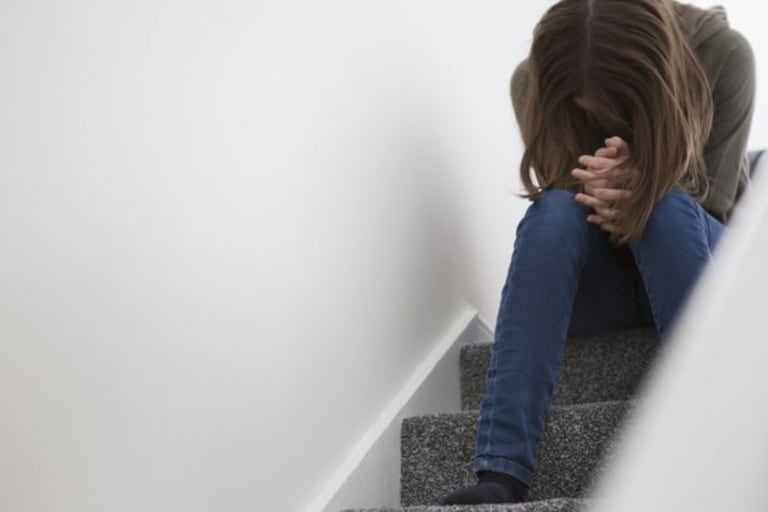 "I try to lead a normal life, after being in hell, but there is the fear that on any bad day the monster may return." AP, 30, has lived with depression for more than seven years, when in the summer of 2014 a psychiatrist diagnosed her with purging anorexia nervosa and depression. "I enjoy life more because I have already hit rock bottom. I value that I am alive, when I had death so close. However, I am also in a constant state of alert," he told THE NATION.
After receiving medical attention several times for eating disorders and depression, arising from an abusive situation physical and psychological by a family member, the AP was diagnosed with bipolar disorder in October 2017. "It was after a suicide attempt. The psychiatrist and psychologist explained to me that depression was linked to the low peaks of bipolarity itself. Every time I had an episode of depression, I had the urge to go to bed and not get out. It is as if you were carrying a backpack of a million stones that does not let you move forward. I also didn't want to go out with my friends and had no motivation for anything. I just wanted to die, and self-harm relieved me", he recounted.
"Sometimes mental disorders coexist with each other and it is difficult to find a correct diagnosis at first," said the psychologist Mara Fernandez. "The eating disorder can be a consequence of depression, which led to a lack of appetite; or the other way around, caused by starvation and lack of energy," he added.
According to the epidemiological study of mental health in the general population of the Argentine Republic, prepared by the Ministry of Health of the Nation in 2015, one in three people presents a mental health problem from the age of 20 and the most frequent are anxiety disorders, depression and substance use problems. Besides, the World Health Organization (WHO) indicated that depression affects more than 300 million people in the world, it is the main cause of disability, above cardiovascular diseases or cancer, and can even lead to suicide, which is the second cause of death in the age group from 15 to 29 years.
A disorder that World Day to Fight Depression, Cecilia Salas, psychologist and executive director of the foundation dedicated to the protection of the rights of people with mental illnesses, Casaclub Baires, pointed out as "the other pandemic", since an international study published in The Lancet in 2020 revealed that depression increased by 28% worldwide with the arrival of the health crisis. "It is extremely worrying, because the pandemic by Covid-19 It is not over yet and it affects the negative vision of those who suffer from it, their environment and their future," added Salas.
In the case of AP, he found a safeguard in preventive and compulsory social isolation. "It was a surprise, but I was not aware that it affected me. At the time of the confinement I felt a certain mental stability. She hadn't worked for a long time and seeing that everyone was forced to stop, the feeling of guilt disappeared. I had an obligation to stay home and I didn't have to go out and face the hostility of the world," he said.
"If we understand that one of the symptoms of depression is isolation itself, the pandemic released at some point that burden that is interacting with others, since for a person with depression even something everyday like getting up and showering is a challenge. But, in reality, what it did was favor the symptom, giving the perfect excuse to stay inside, and it brought about a greater deterioration in the ability to bond," added Salas.
"The diagnosis accompanies you for life", highlighted AP, who claimed to have suffered discrimination in the workplace and even in medical centers: "When I go to the guard because some part of my body hurts, on several occasions the doctors directly related it to my disorder and they did not do studies for me. see what he had. They do not see beyond the diagnosis and always associate everything with it.
Salas pointed out that this is common among those who come to the foundation he directs: "When a person with depression goes to public health and tells something that happens to him, sometimes his word is dismissed and his ailments and actions are justified with his pathology. . They say that are continually questioned".
It also extends to the workplace. "At first, I didn't say anything for fear of being singled out, but later I began to naturalize it. My experience was bad: I was always judged. The last time I worked in a sportswear store and they didn't renew my contract because I was on sick leave for the last week. They told me it was going to be for the sake of my recovery. Is constant frustration and you enter a cycle of self-destruction because you think you are good for nothing. Self-esteem and confidence are annulled, and fears and insecurities appear, "said AP
"People with a mental disorder suffer discrimination under social stigmas and, as a consequence, feel that they have to lie about the difficulties they may have. They try to always show a cheerful mood and are under pressure, which generates stress and aggravates the picture of depression", added Salas.
And he added: "The important thing is to know how to ask for professional help. The Depression it is not a sign of weakness. Some tools are promoting activities that were enjoyed before the illness, adjusting expectations to the context and the person, physical activity even if it is a short walk, and seeking spaces for social and family support. With adequate treatment and professionals who accompany the process, he improves his quality of life in terms of resuming his routine and his relationships".
"I was lucky that my circle of friends and family showed me a lot of support, although at the beginning nobody understood it; not even me. They look at who I really am. The psychologist also helped me a lot, and gave me tools to learn to know myself and understand what is happening to me, "emphasized AP. And he warned: "As soon as you have a thought that could be an alarm signal, you have to tell someone. No feelings should be minimized. The empathy of society will come when they do something to understand and stop judging and stigmatizing people with disorders.
Where to ask for help: