We know the app well Apple Fitness+ i.e. the subscription service that allows users to access various guided training video sessions on devices such as iPhone, iPad or even Apple TV. Here, on the occasion of theInternational Women's Day and to celebrate the Women's History Month, Apple Fitness+decides to introduce new content regarding the series "Let's walk" with the journalist and international presenter Christiane Amanpour but also new workouts with the "Featured Artists" focus on the music of three great female artists: Miley Cyrus, Shania Twain and Mariah Carey.
Apple Fitness+: here's all the news
New episode of "Passeggiamo" with the journalist Christiane Amanpour
For today International Women's DayApple Fitness+ presents a new episode of "Let's walk", the audio experience for iPhone and Apple Watch designed to encourage people to be more active by walking with stories from influential and intriguing personalities. The new episode, available from today, sees the participation of Christiane Amanpour, prominent reporter, anchor, and one of the star faces of CNN. Known for her reports from war zones, places of natural disasters and cultural and political revolutions around the world, Christiane will take listeners on a walk through London, recounting anecdotes and significant moments from her life, such as the argument over a front-page story with an Iranian president, and explaining how she drew inspiration from the legacy of another pioneering female journalism.
We recall that today, "Let's walk" featured over 70 guests, including Prince William, Malala Yousafzai, Chaka Khan, Dolly Parton, Draymond Green, Patti LaBelle, Nick Jonas and many more. Learn more about the latest season of the Fitness+ series here.
New "Featured Artist" Workouts
During the month of March, on the occasion of Women's History MonthMariah, Miley and Shania are ready to move and lead workouts on Apple Fitness+ The popular series "Featured Artist" Apple Fitness+ brand, which dedicates an entire workout playlist to a single artist, is adding new workouts starting today featuring music from Miley Cyrus, Shania Twain and Mariah Carey to give people inspiration from some of the best artists of all times.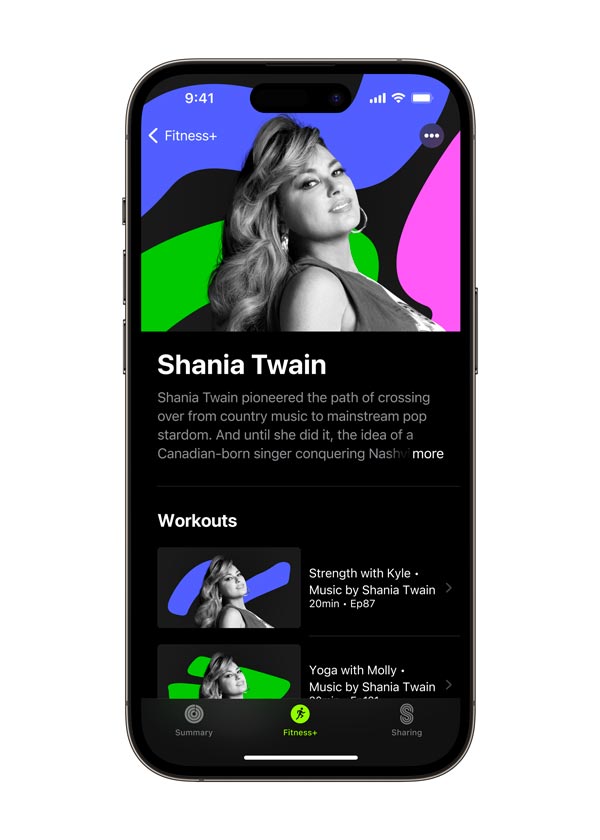 As a reminder, new workouts will be rolling out every Monday throughout March, including dance, HIIT, treadmills, and more. The series "Featured Artist" on Fitness+ he has offered workouts with music by Beyoncé, Calvin Harris, Katy Perry, The Rolling Stones, BTS and many others.
Apple Fitness+: prices and availability
Apple Fitness+ is available as a subscription service at a cost of €9.99 per month or €79.99 per year. But there's even more because Fitness+ is included in the Apple One Premium plan, which will be available starting today in all countries where Fitness+ is available. Fitness+ is included in the Apple One Premium plan which, where available, also offers access to Apple Music, Apple TV+, Apple Arcade and iCloud+ with 2TB of storage space at €28.95 per month; the plan can be shared with up to six family members.