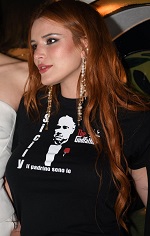 Runway in jeans and a T-shirt for an American actress at the Taormina Film Festival
Perhaps he wanted to convey a message about the simplicity and ordinariness of Bella Thorne, a young American actress who was partly dedicated to an evening at the Greek Theater in Taormina. A kind of anti-stardom, desired by his managers, as if to offer the youth in the stands an image of healthy youth and, not to spoil, the ubiquitous possibility of the American dream, which in our time has become an opportunity for anyone to become a star.
It's a pity that, despite this actress's proven success, this image of post-youthful naivete was marred by what we consider to be a tawdry choice to wear a big-faced Marlon Brando t-shirt as Vito Corleone from Francis Ford Coppola's famous film The Godfather. Perhaps the purpose was to pay homage to a film made in these parts, between the villages of Savoca and Forza d'Agro. However, what we dare to define as a "mafia apology", for the Sicilian civil and honest society, this shirt is a slanderous and misleading depiction of Sicilian reality, especially if we mean those who sacrificed their lives to fight the mafia in all its manifestations. its edges.
The phenomenon of souvenirs praising the folklore of the "mafia" appeared not so long ago, and the figurines u mafiusu ea mafiusa, which can still be seen today in the windows of shops selling tourist souvenirs, including in Taormina, added to this bad habit the sale of "Godfather" T-shirts. father" as symbols of Sicilian tradition and identity to take home as a souvenir after a summer trip to the island. But what's folklore about blowing up a highway to kill a judge and the people accompanying him? What is the "tradition" in a child dissolved in acid for through revenge on a repentant mafioso?
A few years ago, the issue was taken to the ethical court of public opinion by the mayor of Cinisi, a famous small town in the Palermo area where Peppino Impastato was born, who denounced this indiscriminate use of the mafia's apology, which also came with the sale of T-shirts for the said one.
The slow fight against cultural changes and the conquest of a clean image of not only Sicily deserves more respect and attention. especially those who play the role of a public figure who has a strong influence on the imagination and sensibility of new generations. Failure to understand this overshadows any artistic or human qualities of a young artist who, voluntarily or unwittingly – it does not matter – indulged in a bad marketing game, which we Sicilians are happy to do without.
Bella_Thorne (Cecilia Curro (C) 2023)
FeralpiSalo
– There are 0 posts on the forum. – Forum Policy –