But who is Bianca Censori really? Here's what we know about her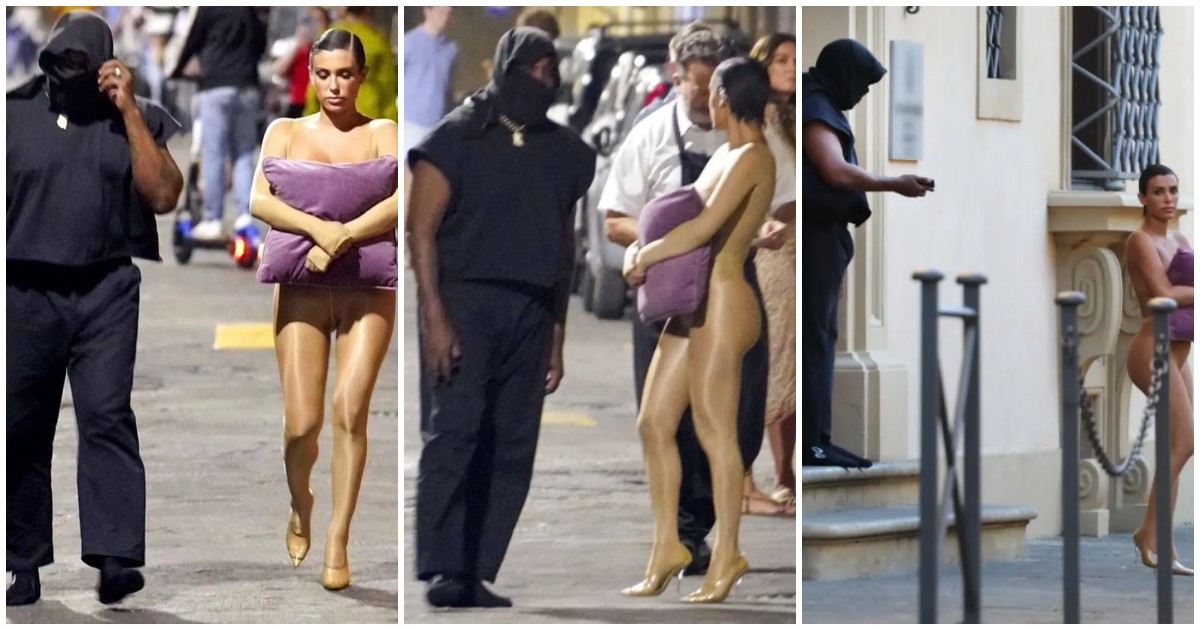 Kanye West and Bianca Censori are still at the center of controversy. The couple was spotted Wednesday night in Milan on Via Montenapoleone where she allowed herself several hours of shopping at Marni, keep causing a scandal. After a Venice-based motorboat company banned them from posting several images showing the two in an intimate relationship aboard a boat, the newlyweds decided to spend a few days in the Lombard capital.
A tour of Italy by Westerners who appear to be in Bel Paese in search of fabrics for the new Yeezy collection began at the end of July with visits to all Italian cities of art, from Florence to Rome, from Verona to Milan, and also for romantic Venice. If in Florence, due to the sultry climate, Kanye appeared strictly barefoot or wearing only Yeezy socks, a fashion brand whose creative director is the rapper, and face-covering maxi t-shirt, Bianca shocked tourists a pair of nude leggings and a purple pillow to cover the breasts, "stolen", according to American newspapers, from the living room of the suite at the Royal Suite Della Gherardesca, the five-star hotel where the two were staying.
However, since their love story began, it seems that the couple is always ready to make a splash. The images went viral images showing Kanye with his pants down and Bianca leaning over him aboard a water taxi that is about to arrive in the Lido for the Venice Film Festival, while footage from yesterday in Milan is being shared around the world, showing Kanye, face covered by the ubiquitous black T-shirt, walking alongside Bianca for a very in high heels and pantyhose hugging a purple pillow.
But who is Bianca Censori really? We still know very little about her: she is 28 years old, she comes from a suburb of Melbourne, Australia, lives in Los Angeles, studied at the Cary Baptist Grammar School and graduated in architecture. In fact, sources close to the couple confirm that their love for West blossomed right at the workplace, after a long friendship fueled by a shared passion for architecture, art and fashion.
Since she got engaged to West, she has given only one interview, which appeared on fashion Australia in June 2022 is not particularly rich in information. She doesn't have Twitter, Facebook, TikTok, but she does have a LinkedIn profile that shows Censori is still head of Yeezy's architecture division, and a free Instagram account. I wonder if this "pause" in Censori's social networks is related to the imposition of a husband or not. Of course it is on Instagram you can find at least 4 profiles dedicated to her. including @bianca.censori_official, which has nothing official as it doesn't have a blue checkmark, but which I advise you to look at as it clearly establishes the transformation of the architect into a Sex Bomb, dividing the pre-Kanye period into surgical accuracy from post-Kanenova.
If in the first Bianca appears with long raven hair, no makeup, and in black sweaters and men's trousers, then after meeting West she gets a clean haircut and chooses very short hair, lycra dresses, revealing T-shirts and second-skin tracksuits. The first records ofthe beginning of a love story The two began in January 2023, when Bianca and the rapper were spotted having dinner together at the Waldorf Astoria Hotel in Beverly Hills, Los Angeles. However, according to other insiders, they were already engaged in December 2022, the day West released a new song. Overloaded censorsan explicit reference to the name of the new partner.
Even if we don't have an exact date for when they started their relationship, until we consider January 13th, the day they officially announced it. secret wedding, it is undeniable that they are inseparable and, of course, thanks to their appearance, wherever they go, they do not go unnoticed. According to some rumors, this is true. Kanye's hand behind Bianca's sensual gaze. The rapper's passion for fashion is certainly not new, so much so that even his former partner Kim Kardashian, has admitted it more than once. The rapper personally selected each outfit and accessory for her. What Kanye went on to do with all of his subsequent girlfriends, from Amber Rose to Chaney Jones to Julia Fox, whom West gave five Hermès Birkins for her birthday.
Of course, Kanye has a huge influence on Bianca's look. Balenciaga leggings, Yeezy tracksuits, and Rick Owens tops demonstrate West's passion for the fashion world and his desire to play fashion with his current girlfriend. On the other hand, we also like to think that Bianca willingly enters into this game, emphasizing her forms and exposing them or, if necessary, hiding under the pillow to become representative of a very sensual femininity which sparks a heated debate on social media, divides fans and confuses our notions of what today, according to common sense of decency, can or cannot be worn in the name of style.