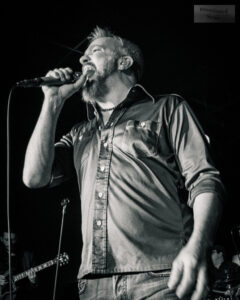 | | | | |
| --- | --- | --- | --- |
| Artist | header | Album | Year |
| JJ Gray and Mofro | old glory | old glory | 2015 |
| Michael Kiwanuka | One more night | Love and hate | 2016 |
| Ryan Adams | New York, New York | Gold | 2001 |
| Chris Wheatley | stump stones | Life with the law | 1991 |
| Black Dub | love lives | Black Dub | 2010 |
| Neil Young | Interstate | Ragged Glory (Horse Smell) | 2023 |
| William Elliott Whitmore | Bury my burdens in the ground | Field songs | 2011 |
| Brandi Carlyle | Story | Story | 2007 |
| Gaslight Anthem | Miles Davis and The Cool | Sound of '59 | 2008 |
| Hold steady | Lord, I'm discouraged | stay positive | 2008 |
| truckers | Carl Perkins Cadillac | Dirty South | 2004 |
Welcome to Rock Time!
JJ Gray and his Mofros haven't released a single record since 2015, despite continuing to tour the States undaunted by their explosive mix of rock, soul, country, blues and funk.
Ol'Glory is giving the title to their latest album and is a perfect example of how addictive their music is.
Michael Kiwanuka is one of the best soul composers of the new generation, he released 3 albums, and "One more night" is taken from his second and, in my opinion, the best album "Love and Hate".
Ryan Adams had already made a name for himself in the Americana sound world with Whiskeytown when he decided to launch a solo career with the release of Heartbreaker in 2000, but it was 2001's Gold that finally launched him as a first-rate star in the genre.
Chris Wheatley's Living with the Law is undoubtedly one of the best records of the 90s, following Rock Time, so in broad (very large) lines of rock that refers to the roots of the genre or, in this case, to the blues and folk. The album, recorded in Daniel Lanois' studio and produced by Malcolm Byrne, also benefited from the inclusion of "Kick the stones" as background music to the passionate sex scene between JD and Thelma (Brad Pitt and Geena Davis) in Thelma & Louise.
Chris Wheatley sadly died at the age of 45 in 2005 from lung cancer, his daughter Trixie, born in Belgium in 1987, continues her father's tradition, also collaborating with Daniel Lanois on the Black Dub project along with Brian Blade and Darryl Johnson, who plays bass. Living with the law and also with very high quality solo production.
"Interstate" is a great Neil Young song recorded during the "Ragged Glory" sessions, but so far only released as a b-side to the "Big time" single and as an extra track on the vinyl version of "Broken Arrow". '. Now, finally, it will also be released in the extended version of "Ragged Glory".
William Elliot Whitmore is a singer-songwriter originally from Iowa, where he still lives on the family farm, and his songs are often based on episodes of his life as a farmer. hear the sounds of birds raised on the farm.
Brandi Carlyle is one of the best new generation American singer-songwriters, she hit the ground running almost immediately with her second album, The Story in 2007, and confirmed it with her follow-ups, Give Up The Ghost and The Firewatcher's Daughter.
The Gaslight Anthem made at least one of the great traditional American rock records of the 2000s, "The '59 Sound", and if we want, the next "American Slang" also deserves a mention.
Their new album "Books of History" is due out in October, 9 years after the last "Get Offended", but the first impressions read online do not leave much hope, it remains only to listen to them again in the best possible way. and here comes Rock Time.
"God, I'm Disheartened" is a great ballad taken from "Stay Positive", my favorite album by Hold Steady, created by songwriter and singer Craig Finn, whose recent "Open Door Policy" I also recommend.
And we end with the best Drive-by Truckers album, and therefore one of the best American classic rock albums of the 2000s.
The Dirty South was released in 2004 and has recently been re-released in an expanded edition that only confirms the greatness of this album, the second one made with 3 songwriters and 3 guitarists, i.e. founding members Patterson Hood and Mike Cooley and a newcomer and shortly defected by Jason Isbell.
The album explores the greatness, poverty and contradictions of the American South, moving from Sun Studios to a 3-song set dedicated to busting the myth of Sheriff Buford Pusser.
Absolutely recommended.
As a reminder, the Radio Nova website has podcasts of this and previous episodes of Rock Time if you want to listen to them again or have lost them.
Greetings from Lorenzo Comastri, I remind you of the meeting next Sunday, may the rock always be with you!
LC extension
A quote from the movie, of course, from Thelma and Louise.