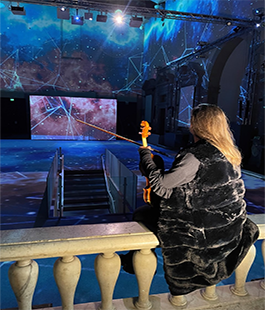 Imagine listening to your favorite music suspended in the starry sky. The Cathedral of the Image (Piazza di Santo Stefano, 5) promotes the launch of its first immersive concert format: "Starry Night – Immersive Concerts". Eight dates from 18 March to 27 May 2023 at 21.00 in the heart of Florence, in the church of Santo Stefano al Pontewhich will give life to one-of-a-kind performances.
The Starry Night concerts transport spectators to the stars thanks to a multifaceted program of pop music reinterpreted in a classical key exclusively at the Cathedral of the Image in Florence. Starry Night goes far beyond the format of traditional concerts: in fact, spectators are simultaneously enveloped by music and starry skies projected in high resolution onto the surfaces of the church.
The first appointment will be with Girl Power!, a concert entrusted to Amelia Sharp's cello which will celebrate the power of women with the music of the greatest international pop artists such as Beyoncé, Billie Eilish, Cindy Lauper, Lady Gaga, Miley Cyrus, Alicia Keys , Madonna and Rihanna.
The second concert will be a tribute to the music of the all-Italian rock phenomenon of these years: the Måneskin. The third event of this first series of concerts will instead be dedicated to a true icon of pop music and beyond: Lady Gaga.
THE PROGRAM
March 18 – Girl Power!
March 25 – Tribute to Måneskin
April 8 – Just Dance! Lady Gaga Tribute
April 15 – Girl Power!
April 29 – Tribute to Måneskin
May 6 – Just Dance! Lady Gaga Tribute
May 13 – Girl Power!
May 27 – Tribute to Måneskin
Tickets are already available on Fever and will soon be available for purchase at the Cathedral of the Image ticket office.
For every information:
https://www.cattedraledellimmagine.it/starry-night-concerti-immersivi/