Official trailer released Trolls 3 – All Togetherthe highly anticipated animated film, which hits theaters on November 9th.
The animated film from DreamWorks Animation is a family reunion full of action, color and superstars. The third act of the film series marks the grand return of Anna Kendrick and Justin Timberlake, who return (as for the original version of the film) to enrich the next chapter of the blockbuster music franchise.
After the first two films, in which Poppy (Anna Kendrick) and Branch (Justin Timberlake) were friends at first and then brought together by constant flirting, we now see them officially engaged. They're finally a couple, but as they grow closer… Poppy discovers something unexpected! Branch has a secret past: he was a member of his favorite boy band, BroZone, along with his four brothers: Floyd (Troe Sivan, the Golden Globe-nominated electropop singer), John Dory (Eric Andre, sing 2), Spruce (Daveed Diggs, Grammy winner; Hamilton) and Clay (Grammy winner Kid Cudi; Don't look up).
What makes the plot very confusing is the fact that BroZone broke up when Branch was still a child, and along with the boy band, his family also broke up, so Branch hasn't seen his brothers or bandmates since.
And then the ball gets even more tangled: Floyd, Branch's brother, is kidnapped by a couple of evil pop stars, namely Velvet (Amy Schumer, Emmy Award winner; Train Wreck) and Veneer (Andrew Rannells, Grammy winner and Tony nominee; Book of Mormon). Reason for kidnapping? Floyd's musical talent.
So Branch and Poppy will go on an adventurous and exciting journey to reunite the brothers and save Floyd from kidnappers.
At the bottom of the article you will find the official trailer Trolls 3 – All together.
A musical characterized by an intoxicating cocktail of psychedelic joy.

Trolls 3 – All Together offers new and classic pop hits and features some truly incredible music and comedy superstars.
As new characters in the franchise, we will see four-time Grammy Award nominee and Latin Grammy Award winner Camila Cabello (Cinderella) as Viva, Zosia Mamet (Stewardess) as squeezing and drag icon RuPaul Charles, who has won 12 Emmy Awards, as Miss Maxine.
The historic cast includes Grammy, Emmy and Golden Globe nominee Zooey Deschanel as Bridget, Christopher Mintz-Plasse as Gristle, Icona Pop duo Aino Jawo and Grammy-winning Caroline Hjelt as Satine and Chenille Anderson .Paak as Prince D, comedian Ron Funches as Cooper, SAG nominee Kunal Nayyar as Guy Diamond and Emmy Award-winning Saturday Night Live legend Kenan Thompson as Tiny Diamond.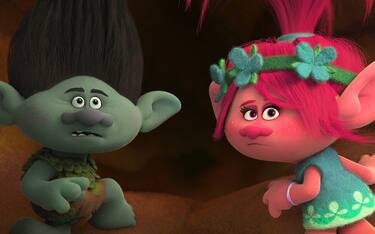 In-Depth Analysis
Trolls 3 – All Together, official cartoon trailer
Film production
Trolls 3 – All Together Directed by Walt Dohrn and produced by Gina Shay, co-directed by Tim Heitz (story artist Trolls World Tour). Previous films in the series, Trolls (2016)e Trolls World Tour (2020), all from DreamWorks Animation. They achieved resounding success and were nominated for an Oscar for Best Original Song.
You can watch the official trailer below Trolls 3 – All together.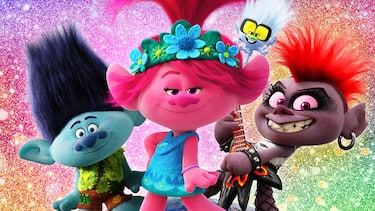 In-Depth Analysis
Trolls World Tour, entertainment and fun with music