Do you need strength and love to feel every muscle on every track? For all bike enthusiasts looking for fun and sporty adventure, VAUDE offers the Moab Mountain Bike Collection, highly functional mountain bike clothing that turns every ride into an unforgettable experience, no matter whether you are a cross-country, enduro or mountain biker.
With the versatile VAUDE clothing you will master both ascents and descents on unpaved trails and off-road terrain. The cycling shorts have a seat insert and elastic panels for greater comfort and optimal freedom of movement.
VAUDE's Moab mountain bike collection for your off-road adventures.
An enduro bike is all about downhill speed. When it comes to equipment, safety and comfort are of paramount importance – for maximum driving pleasure. For this reason, VAUDE mountain bike clothing is more durable, longer and can be combined with protection.
X-Pad padding
The X-Pad is ideal for the aggressive riding position required for mountain biking or gravel riding. In addition, the four-layer design with 3D lattice structure provides excellent shock absorption for off-road driving. For even greater comfort, the X-Pad features fine perforations for excellent breathability.
MOAB PRO MEN'S SHORTS
With the awesome Moab Pro shorts, there's nothing stopping you from a fun day at the bike park or on the trail. These men's shorts are exceptionally comfortable; They feature an innovative, easy-to-adjust 2-in-1 zipperless waistband, so nothing gets caught or tangled. The elastic waistband sits higher at the back to help keep the shorts in place. They can be worn with protection thanks to articulated and progressive knees, while perforations on the inside of the legs provide exceptional ventilation.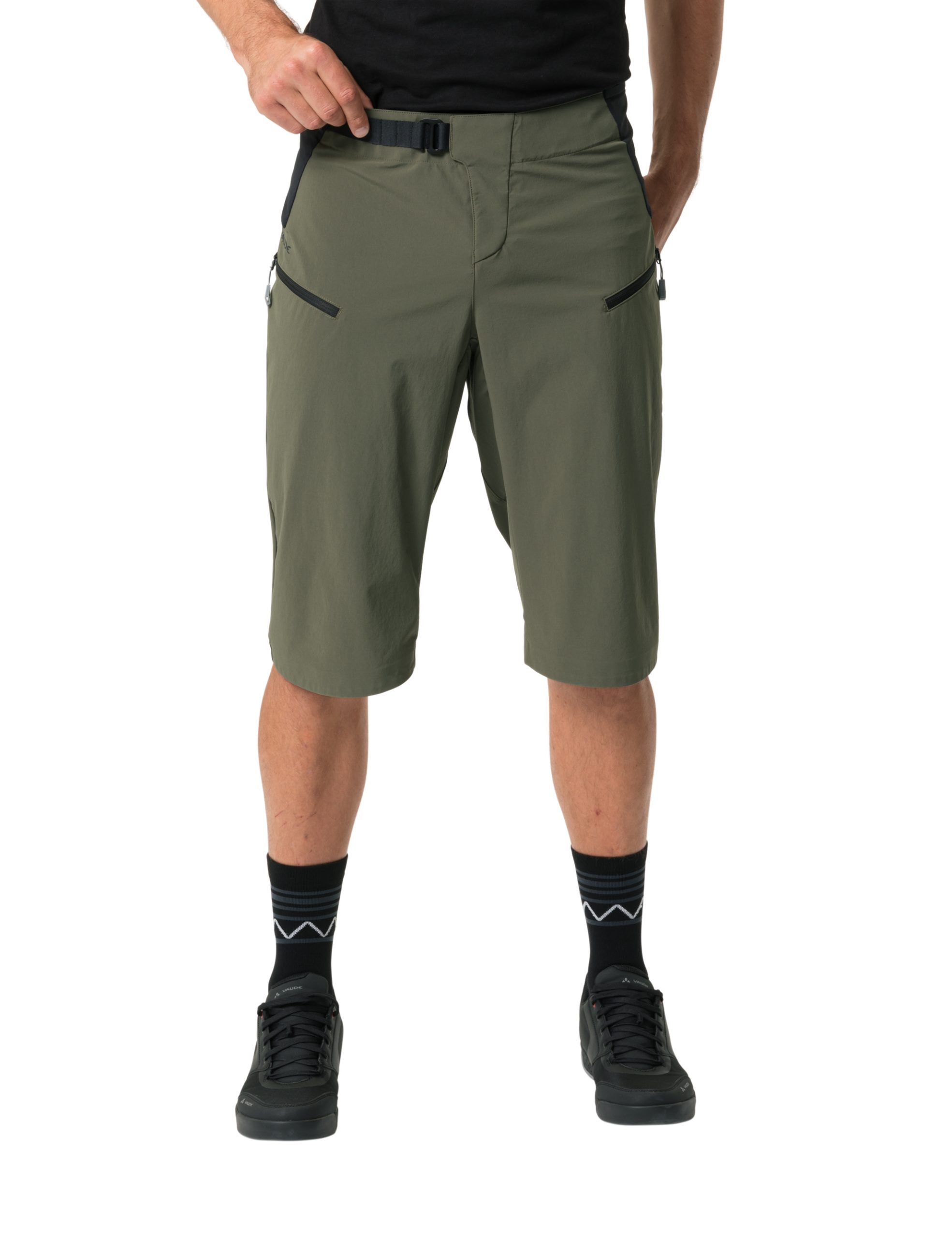 Two deep zippered pockets are accessible while riding and provide ventilation. To produce the highly abrasion-resistant yet lightweight and flexible fabric, a certified mass balance process is used, where pyrolysis oil is extracted from waste tires and fed into a traditional polyamide manufacturing process. Chemical recycling reduces CO2 emissions by up to 60%. The Moab Pro Shorts feature an eco-friendly, PFC-free coating that is water and dirt resistant. In addition, this product is climate neutral. We systematically analyze and reduce all emissions from materials, production and transportation. The now unavoidable emissions were fully offset by the independent non-profit organization myclimate. The VAUDE Green Shape label stands for ecological and functional products made from environmentally friendly bluesign® certified materials.
Moab PRO shorts for men
Price €126.00
MEN'S JACKET MOAB IV SOFTSHELL
Casual hooded cycling jacket for trail surfers. This lightweight and casual windbreaker made of water-repellent elastic material will be enjoyed both on the trails and when meeting friends after a bike ride. You can also roll up the adjustable hood for a quick descent. Two zippered side pockets have a mesh interior for added ventilation.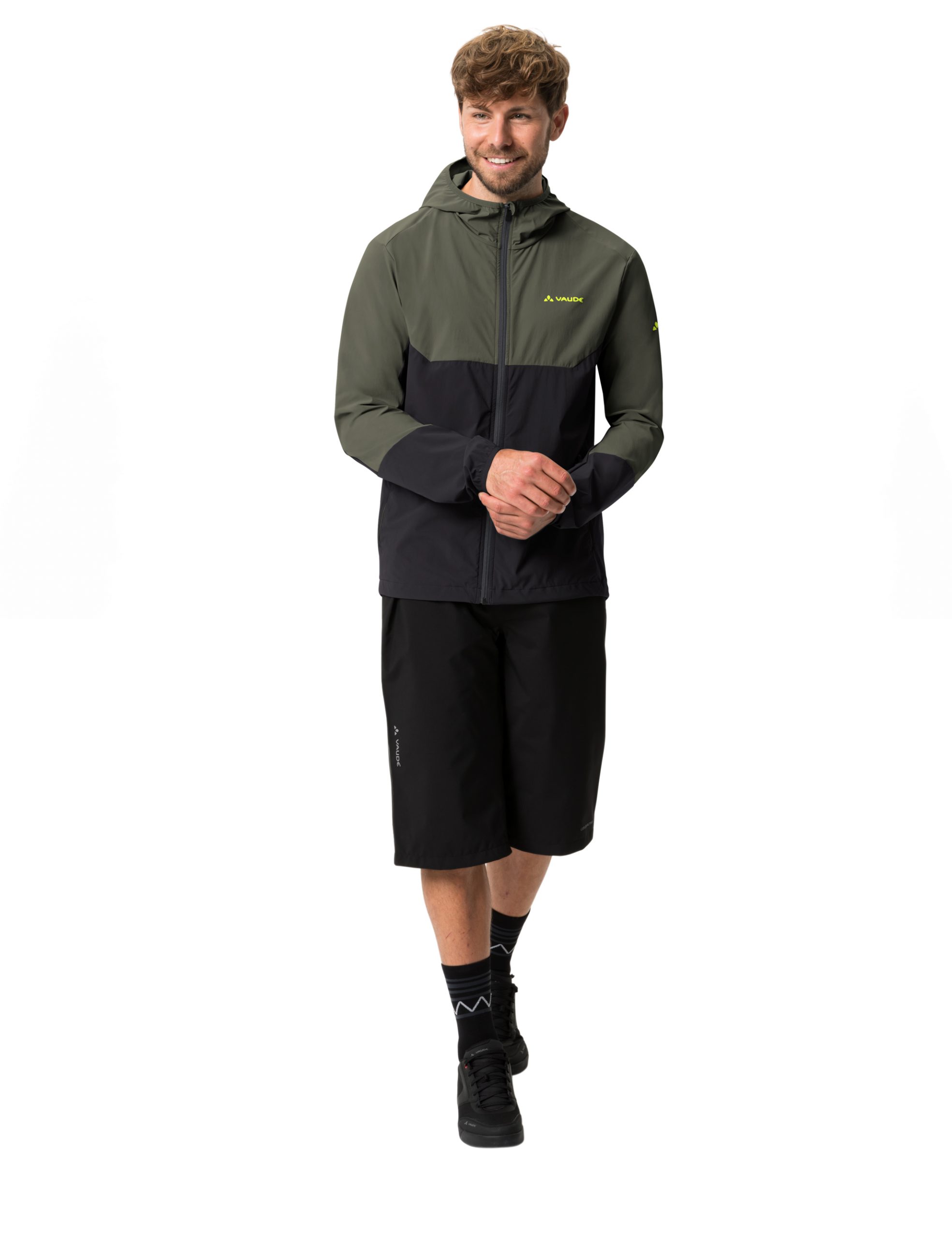 Certified to strict bluesign® environmental standards, the material is lightweight and provides maximum performance. This product is made with a water-resistant Eco Finish that is produced without the use of fluorocarbons (PFCs). The VAUDE Green Shape brand stands for environmentally friendly and functional products made from environmentally friendly materials.
Softshell jacket Moab IV men's
Price €126.00
MOAB TECH ALL MOUNTAIN BIKE SHOES
On the Hook: Multifunctional shoes with flat pedals. Looking for the next level of cycling and walking adventure? The AM Moab Tech is the perfect choice for downhill mountain biking.
The asymmetrical shaft design combined with the Boa® L6 screw closure provides the stability you need and can be customized to fit your foot. The BOA dial cover protects it from dirt and provides added stability. A fur-lined heel pad and an anatomical Ortholite® footbed provide a sporty fit.
A firmer polyurethane foam insole in the midfoot provides ideal force transfer to the pedal. The EVA midsole has extra cushioning in the heel for added comfort and protection. Raised inner ankle collar provides crank protection; Reinforced toe cap protects against sticks and stones.
The newly developed AM Flat outsole takes you to the next level of cycling and hiking adventure. The hexagonal midfoot tread pattern combines with the soft, flat SUPtraction® rubber compound to provide ideal pedal grip, allowing you to focus on the trail. At the toe and heel, the outsole has deeper tread to provide the traction you need when you need to carry or push your bike. The hexagonal tread acts like fish scales that dig into the ground as you walk, providing excellent traction on any surface.
Covering materials consist of 40% recycled materials. The comfortable Ortholite® insert is made from eco-friendly Eco Plush polyurethane foam and is made from 50% recycled polyester.
Moab tech mountain bike shoes
Price €189.00
CYCLING BACKPACK MOAB XALPS 25 II
With the development of the successful Bracket Xalps model, you will have no problems with organization and orientation! The 25 liter Xalp backpack features an optimized Ventex Active suspension system for a perfect fit and good ventilation, as well as thicker padding in the lumbar area to relieve pressure points.
The comfortable waist belt moves the backpack's center of gravity rearward and, together with the Ergoshape straps, ensures a perfect fit and optimal freedom of movement when cycling. The backpack is divided into three compartments. The large main compartment can be divided for better clothing and food storage and provides separate access from above or below. There is another compartment at the front for glasses or a wallet. A tool compartment at the front of the backpack organizes everything you need to keep handy in case of an emergency. Below is a slot for your cards or other documents. There is also a hidden compartment with a helmet holder. There's a pocket on the right side of the hip belt that's big enough for a phone or a protein bar.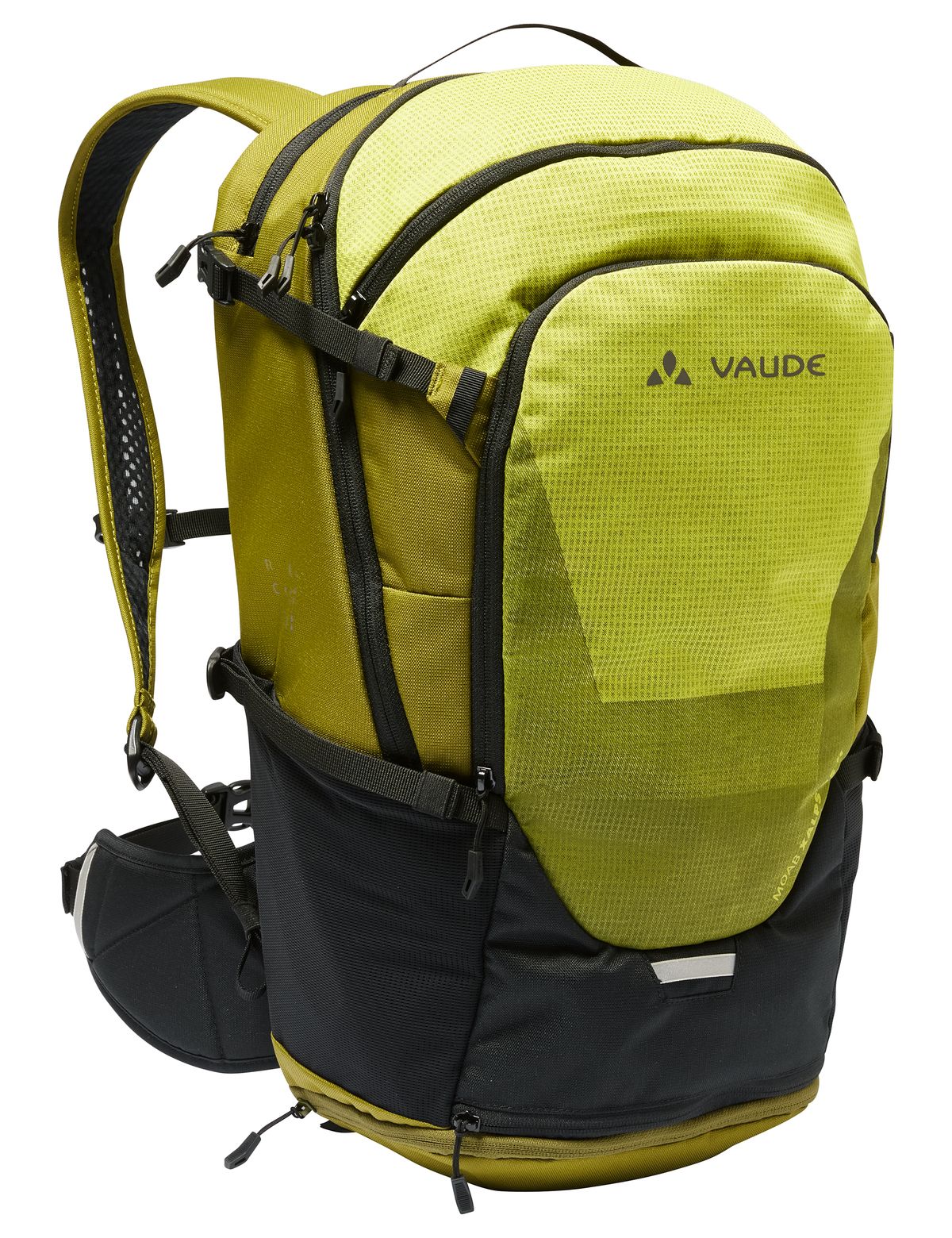 Features include elasticated side pockets, a separate bladder compartment, compression straps on the upper sides, a rain cover in a separate lower compartment and reflective details for added safety in the dark. All Moab backpacks look great with our stylish Moab clothing. Moab's bluesign® certified recycled material is made with an environmentally friendly, water-repellent Eco Finish that is produced without the use of fluorocarbons (PFCs).
Bicycle backpack Moab Xalps 25 II
Price €168.00
READ ALSO: Warm Vaude Cyclist rain jacket for all weather conditions.
Advertising