Amsterdam
Director: David O. Russell; subject And film script: David O. Russell; photography: Emmanuel Lubezki; scenography: Patricia Cuccia, Erin Fite; costumes: Albert Wolsky, JR Hawbaker; music: Daniel Pemberton; trick: Jason Collins; assembly: Jay Cassidy; performers: Christian Bale (Burt Berendsen), John David Washington (Harold Woodman), Margot Robbie (Valerie Voze), Rami Malek (Tom Voze), Anya Taylor-Joy (Libby Voze), Robert De Niro (General Gil Dillenbeck), Mike Myers ( Paul Canterbury), Michael Shannon (Henry Norcross), Chris Rock (Milton King), Zoe Saldana (Irma St. Clair), Timothy Olyphant (Taron Milmax), Taylor Swift (Liz Meekins), Andrea Riseborough (Beatrice Vandenheuvel); production: Arnon Milchan, Matthew Budman, Anthony Katagas, David O. Russell, Christian Bale for New Regency, DreamCrew, Keep Your Head, Corazon Hayagriva; origin: USA – 2022; duration: 134'.
Plot
New York, 1933. Two World War I veteran friends, veterans' doctor Burt Berendsen (Christian Bale) and black lawyer Harold Woodman (John David Washington) are contacted about General Meekins' autopsy by the military's daughter ( met by them in France, during the war). Her death appears to be of natural causes, but the autopsy reveals poison residues in the dead man's stomach. When they try to reveal her result to their daughter, she refuses to talk to them first, then she is pushed under a car by a man, who names the two friends as murderers.
Investigated by the police, they look for someone who can vouch for them with the police and they turn to the wealthy Tom Voze, who had been appointed by Meekins' daughter before her assassination. In the Voze villa they meet again Valerie, Voze's sister (Malek) and Red Cross nurse who had treated them during the war and then moved with them to Amsterdam, signing a friendship pact with her two patients and weaving a love story with Harold. To save Burt from prison who, having returned home had fallen into drug addiction, Valerie had asked for the intervention of her powerful family, who in return had demanded her return home.
In the villa, Valerie is kept segregated in her room, as she suffers from a mysterious nervous disease that causes her to faint and lose balance. She reveals to the two that she advised Meekins' daughter to come to them for the autopsy, as they are trustworthy. Upon learning of the matter, Voze agrees to vouch for them and advises the two unfortunates to contact General Dillenbeck, a decorated veteran and friend of Meekins to shed light on the crime.
Freed Valerie from her captivity, while Burt tries to contact Dillenbeck (De Niro), Harold and the woman come across the killer of Elizabeth Meekins and follow him to a sterilization clinic, owned by the Commission of Five, a mysterious pro- Nazi. At this point Valerie brings Burt and Harold together with Canterbury and Norcross. The two are agents of MI6 and the American Secret Service who reveal to the three that they are on the trail of a conspiracy to overthrow democracy and establish a dictatorship headed by the unwitting General Dillenbeck.
The three meet Dillenbeck and with him agree a plan to unmask the conspirators: for some time an agent has been trying to convince Dillenbeck, held in high esteem by public opinion, to give a paid speech for a mysterious organization. The three convince Dillenbeck to accept, as long as he pronounces it during a charity event in favor of veterans, organized by Burt.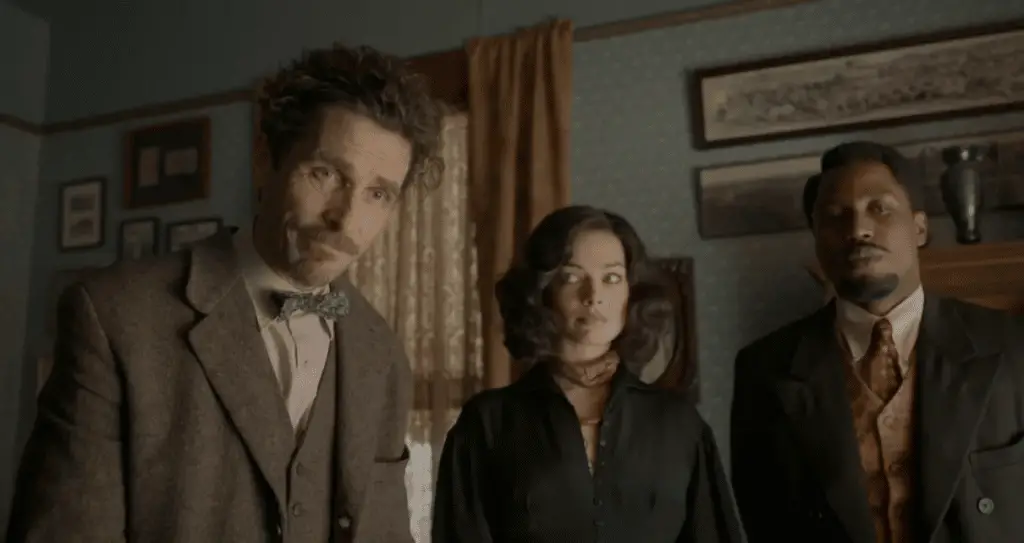 At the event, Dillenbeck is ushered into a private room where he meets the Commission of Five of which Hitler and Mussolini admirer Tom Voze is a member. Pretending to agree with them, Dillenbeck begins his speech, which is actually aimed at denouncing the conspiracy. Elizabeth's killer tries to stop him, but fails thanks to Burt's intervention. The Five are arrested (but will be released) and Dillenbeck testifies before Congress, confirming the existence of the conspiracy.
Harold and Valerie, who isn't actually sick but was poisoned by her evil brother, leave for an unknown destination while Burt decides to stay and reopen his medical office with the help of nurse Irma, with whom he hopes to strike up a relationship .
The original testimony regarding the plot (given before Congress in 1934 by retired General Smedley Butler) and Dillenbeck's are shown in parallel at the beginning of the credits of the film.
The mountain that gives birth to a mouse
Amsterdam marks the return of David O. Russell to directing after seven years since Joy, biopic starring Jennifer Lawrence. The budget made available is substantial: 80 million dollars, many of which probably invested to enlist a real parade of movie stars. The protagonists are Christian Bale, Margot Robbie and John David Washington, but next to them we see parading Rami Malek, Robert DeNiro, Anya Taylor JoyChris Rock, Zoe Saldana, the pop star Taylor Swift and many more that appear on the screen even for just a few minutes.
The subject on which Russell writes the screenplay is the conspiracy that in the thirties aimed at overthrowing the president Franklin Delano Roosevelt – than with his New Deal had caused quite a bit of annoyance elite – to install a leader more pleasing to the right, sympathetic to the European dictatorships of Italy and Germany. with an apparently very strong political and ideological content, in need of an adequate historical reconstruction. The director, however, treats Amsterdam as if it were American Hustle taken to the extreme.
Perhaps fearful that such a theme might alienate the audience, Russell pushes the theme into the background, grafting onto it a very intricate and difficult to follow detective story (it was tiring to synthesize the plot and I will certainly have forgotten something) narrated in a surreal tone, almost comedy, using a frankly out of place syncopated montage. The result is a misleading film right from the title, which does not belong to a defined genre, which displaces the viewer but ends up boring him due to the sudden upheavals of a plot that is too long (134 minutes) and complex.
Faced with these narrative choices, the actors can do little: Christian Bale is extraordinary and seems to be the one who believes in them the most (and he is the only one who visibly ages between flashbacks, while his companions remain practically unchanged over time) , while Margot Robbie, albeit delightful, appears as disoriented as her character and John David Washington is ill-suited to the role he renders lamely.
Not surprisingly Amsterdam grossed just over twenty million dollars and proved a failure. I found it pleasant at times, thanks to the actors' performances but it was reasonable to expect much more.