Chef Salone Eva, on the picturesque terrace of the Hassler Hotel in Rome, offers a cuisine that is divided between tradition and innovation with veins from Campania, such as the Paccheri dish with zucchini and crab.
A breeze of refined and modern Neapolitan style blows on the terrace of one of the most prestigious hotels in the capital, the Hotel Hassler, strategically located at the top of the Spanish Steps, one of the most memorable places in the Eternal City, which over time has hosted the biggest Italian and foreign political, economic and cultural celebrities: heads of state, government officials, artists such as Pablo Picasso, the Kennedy family, Prince Rainier of Monaco and Grace Kelly, Richard Nixon, Audrey Hepburn, Federico Fellini, Igor Stravinsky, Gabriel Garcia Marquez, Steve Jobs, Tom Cruise, Nicole Kidman, Madonna, Bill Gates, Melanie Griffith, Antonio Banderas, Hugh Grant and George Clooney.
Next to the iconic starred Imago Restaurant, one of Conde Nast Traveler's "95 Best Restaurants" entrusted to the skillful hands of Chef Andrea Antonini, on the hotel's terrace, spectacularly overlooking the rooftops of Rome, Chef Marcello Romano, Neapolitan by origin, but firmly entrenched for twenty years at Hassler, provides Salone Eva with a culinary offering that is divided between tradition and innovation, Italian and Roman, with Campanian veining as a reminder of its origins throughout. day span. Gourmet cuisine that ranges from breakfast to lunch and dinner, but extends not only to hotel guests, but also to external guests. Possibility of wine tasting by the glass, cocktails and snacks after the theater accompanied by live piano music in a young and modern environment, but also elegant and discreet, in which you can breathe a real homely atmosphere.
In fact, the rule is to carefully prepare dishes with seasonal ingredients, fresh and authentic, balanced, but with enveloping taste. The common thread and the most authentic essence of the entire proposal is the Italian spirit both in terms of raw materials and combinations that evoke vivid memories of family lunches and dinners without neglecting some international influences in the presentation and the simple but austere mise-en-scène.
From the Salone menu, Eva Marcello Romano offers Mondo Food readers a recipe that evokes the scents of the sea and the garden in a happy combination of freshness and pleasantness, designed for those who stay in the city during these sultry August days.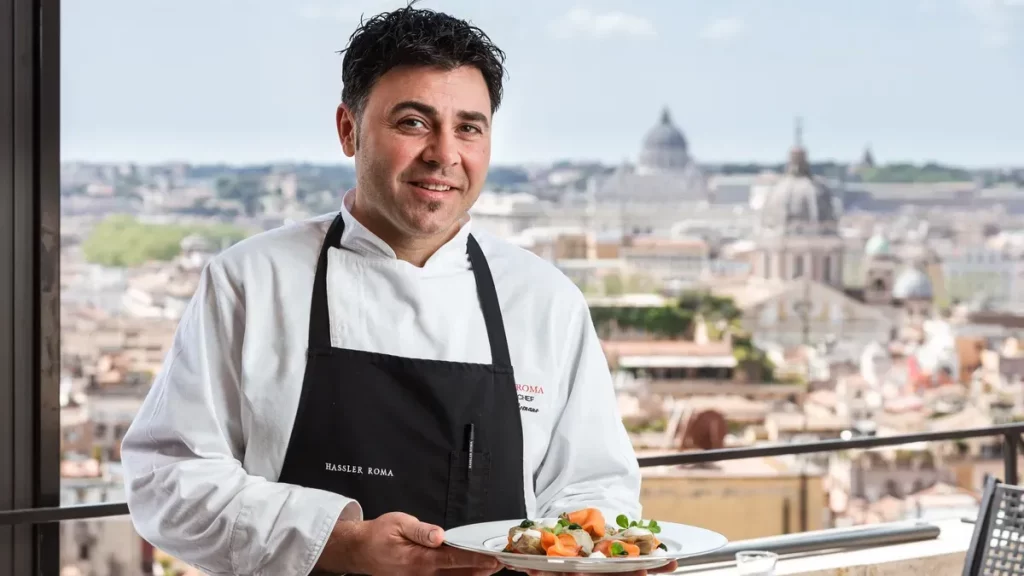 Gragnano paccheri recipe with Roman zucchini cream and crab meat
Ingredients for 4 persons
For pasta
400 g Gragnano Half Packer
For zucchini cream
1 kg Roman zucchini
150 g onion
20 g extra virgin olive oil
salt
For crab broth
2 kg crab
400 g celery
400 g carrots
200 g onion
Cream
Chopped garlic
fresh chili pepper
Extra virgin olive oil
Decorate
400 g Roman zucchini
8 pcs zucchini flowers
Black Olive Powder
Parsley
Method
For the zucchini cream: wash the zucchini, cut into small pieces and quickly blanch in salted water. Let them cool in water and ice.
In a saucepan, fry finely chopped green onions in oil, add blanched zucchini and boil, adding a glass of vegetable broth.
When the liquid part is ready, use a blender to get a perfectly smooth cream.
For crab broth: put washed and chopped vegetables in a tall saucepan, add crabs and pour cold water, bring to a boil. After about 10 minutes, remove the crabs, scoop out the flesh with tongs and set it aside. Put all the crab trimmings back into the water and continue to simmer for about two hours over low heat.
After cooking, filter everything so that the broth is free of impurities.
Boil pasta in salted water until very al dente.
Saute oil, garlic and chili in a pan. Add the pasta and some of the broth, over high heat, start stirring, adding the zucchini cream.
In a frying pan, fry the zucchini, pre-finely chopped, with oil, salt, pepper and chopped parsley. Arrange the sautéed zucchini on top of the pasta, add the crabmeat, olive powder, and flowers seasoned with oil and salt.