Al CorSera: «Women don't form a team. Look at Shakira: she's angry more with the woman who took Piqué from her than with him.'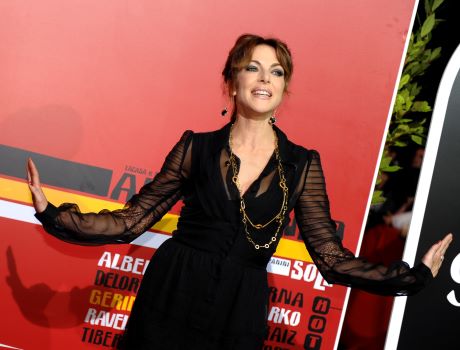 Corriere della Sera interviews Claudia Gerini. She currently has 86 films. She talks about her childhood and her apprenticeship.
«I also did various advertising, with Baci Perugina I earned good money. I come from a humble family, dad had a car wash, later he joined AMA, the municipal waste disposal company. Trasteverino doc, he's in fifth grade but he knows everything about cinema ».
Gerini talks about the advances received at work, the difference with respect to harassment and violence and the "lobbies".
«There are directors who make films only about women, for women. It's becoming a kind of lobby. I think there shouldn't be a need for women's quotas. Just as I think that denouncing 55 years later of having been induced to a nude scene, as Olivia Hussey denounced for Zeffirelli's Romeo and Juliet, is madness ».
Was she harassed? Gerini:
«Of course, there have been attempts to which I have avoided, I have had even pushed attention. I was a girl, I was 17, I was lucky and I was able to leave ».
Is there sisterhood?
"Women don't team up. Shakira in her song took it more with the woman who took away her man than with him, Piqué, the footballer. That way she sold more. I love women, Sabrina Impacciatore, Cristiana Capotondi, Maria Sole Tognazzi are sisters. And I'm protective. If a spider appears on the wall in the holiday home, I'm in charge of the matter.'
What is it like to be an adult femme fatale? Gerini:
«Can I be a worker but not a sexy role? I consider myself a femme fatale, it's not that I do: I was born there! Can't I look at a man with seduction, can't I wear a sheer stocking if I still have a nice body?».
How does Gerini experience defeats? Failed tryouts?
«Many colleagues don't want to do them: they are such and such, how dare you ask me for an audition? For me, however, you
they lengthen life, they force you to shuffle the cards. It is an exercise in humility. Defeat does not exist in this profession but of course I suffered when Paolo Sorrentino in The Young Pope took Cécil de France and not me. In Matter of the Heart Francesca Archibugi chose Micaela Ramazzotti. I'm too strong-willed, and she served that kind of frail, somewhat unaware woman. Right so. I don't reason with the ego. For the Nine audition I went to New York, I sang and danced on Broadway, they said nice things to me but for that role they took Marion Cotillard. But I think there's always something else."
Napolista
ilnapolista © reproduction reserved