Kanye West and Bianca Censori they keep arguing. However, this time the focus was on something more than just a "simple" image. While on holiday in Italy, where they were paparazzi for several days along Lake Como, they decided to move briefly to Venice. Their arrival, of course, did not go unnoticed. Cause? On the boat that took them to the lagoon, Kanye West exposed a few inches of skin too much.
Kanye West on a boat with his pants down
It all started with the Whoopsee video and articles in foreign press: The Daily Mail and The Sun, Page Six and TMZ released photos and videos of the couple's arrival in Venice. Kanye West caught with pants down, and side b is on display for tourists from nearby boats. In truth, judging by the images, the rapper and designer don't care too much. As did Bianca Censori, his co-worker and "wife" (whether true or speculated, this has never been established). What is certain is that West, sitting on the edge of the boat, had his pants down or possibly undone or torn.
Apparently, the interpretations were not long in coming, and the news was picked up by various tabloids. Daily Mail headlined the jar to arrest As for Kanye and Bianca, The Sun spoke about the indecent exposure complaint. The images were purchased by the local police in Venice. If suspicions of indecent acts are confirmed, the two could be sued for obscene acts in a public place.
Bianca and Kanye barefoot in Florence
Not only Lake Como and Venice: Bianca and Kanye also visited Florence. The day after the boat scandal, they were both photographed barefoot on the streets of the Tuscan city after shopping at Balenciaga (the store was closed to the public for an hour). Next you go to the hotel for an aperitif with friends. In addition to being barefoot, Censori wore a white tight white dress with a very low neckline, which was in keeping with her philosophy. without a bra.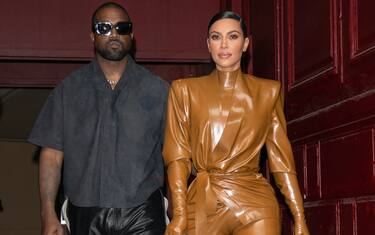 deepening
Kim Kardashian and Kanye West agree to divorce