Issue 29 Sarajevo Film Festival opened last night with a screening of the documentary "Kiss of the Future", filmed by world famous American actors. Matt Damon and Ben Affleck. During the most important film festival in Southeast Europe, which takes place in the Bosnian capital, 235 films from 59 countries will be screened over the next eight days in 18 sections. 69 world premieres and nine international films are expected. The "Heart of Sarajevo" has 49 films in four competitive selections: feature films, documentaries, short films and student films. The opening ceremony of the festival at the Sarajevo National Theater was preceded by a grand red carpet ceremony in the presence of numerous prominent figures from the film world. Among the first appeared the star of world music Bono Vox, a member of the U2 group, who will arrive in Sarajevo with 13 other members of his team. The American CNN star also arrived in Sarajevo. Christian Amanpour, who briefly told ANSA that he felt great in Sarajevo. "I am honored that Sarajevo has been a part of my life and that I can return to Bosnia and Herzegovina. It is a great city in every way," said Christiane Amanpour, who, as a young journalist, covered the suffering of innocent civilians. during the Bosnian war.
Italian films presented at the festival
Numerous Italian films will also be screened at the Sarajevo Film Festival, including The Disco Boy directed by Taranto Giacomo Abbruzzese. Also on the program are Italian short films – Eschaton AD directed by Andrea Gatopoulos and Maestral directed by Niko Bonomolo. Other Italian films also on view are Dalia directed by José Juanna Piras, War Between the Poor, Reginetta directed by Federico Russotto, Tria directed by Giulia Grandinetti, and Dependent Variables directed by Giulia Grandinetti. Directed by Lorenzo Tardella. Of great interest is the Italian film March on Rome (directed by Mark Cousins), which premiered in Sarajevo with a full house, as well as the film Souvenirs of War (George Zeller). The film "Like sheep among wolves" directed by Lida Patitucci will have a special screening in Sarajevo, where, as usual, there are numerous tourists from Italy. Lynn Ramsey and Charlie Kaufman received the Honorary Heart of Sarajevo award this year for their outstanding contribution to the art of cinema. The Sarajevo Film Festival will run until 18 August.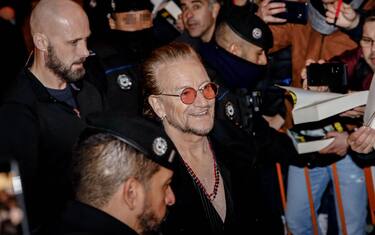 deepening
Bono Vox in San Carlo in concert with a Napoli scarf. PHOTO