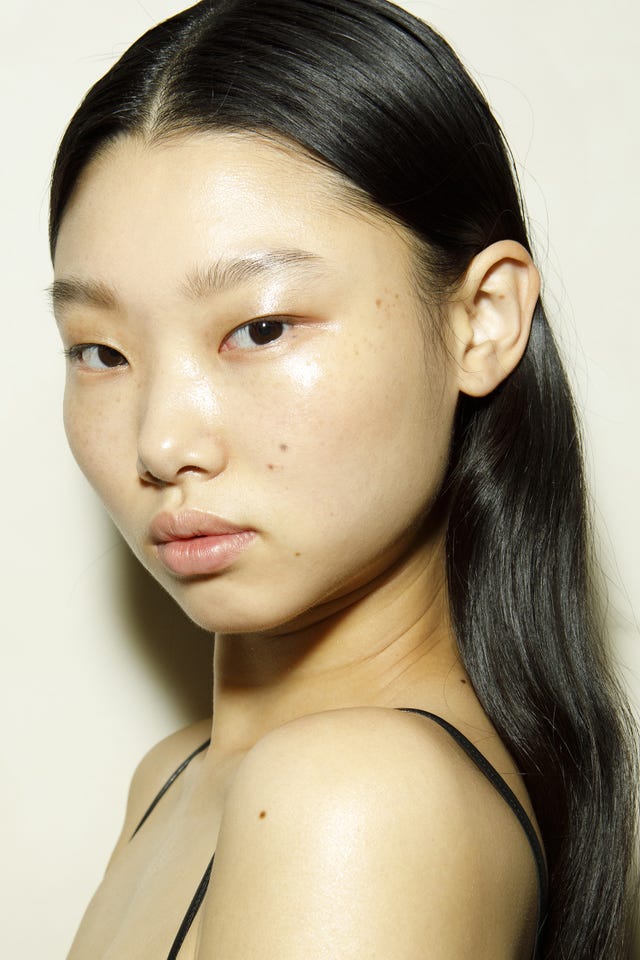 Rosdiana CiaravoloGetty Images
In the era of hybrid beauty, having a good colored cream in your hands allows you to instantly create a perfect nude make-up. Among the many possible alternatives to the use of foundation – including concealers, BB and CC creams, liquid or powder highlighters, etc – colored creams offer many advantages. Personification of the contamination and fusion of several products together, the colored creams – as their name suggests – moisturize and treat the skin and in addition sublimate it with transparent colors. Their nuances are able to adapt to any skin type. That's why they are references loved by many make-up artists when they want to create natural but well-finished beauty looks, without the coverage of foundations. And when temperatures begin to rise, making a lighter skincare necessary. There cnn, in his investigation of the latest and best colored creams, has collected the testimony of famous and enthusiastic make-up artists. Jamie Dorman – make up artist of Bella Hadid and Anne Hathaway -, Tobi Henney – who takes care of the look of Jessica Alba and Megan Fox – and Dani Kimiko Vincent, make up artist of Sandra Oh.
Colored creams, how to apply them?
The best tool for applying colored creams are certainly the fingertips. Able, with their intrinsic warmth, to facilitate the fusion of the texture with the skin of the face. The product is spread all over the face, with circular movements, with a larger dose in the points where you want to create more color. Like the nose, chin, cheekbones and forehead.
Colored creams, the best of the season
It makes the skin particularly homogeneous and luminous: Fresh Tinted Moisturizer by Ringana gives a delicate coloring effect, given by the mineral pigments contained within it. Particles that adapt to every skin tone, up to correcting small imperfections, redness and spots. The plant principles of which the formula is composed – complex based on sugars, mix of cranberry seed oils, pomegranate, sacha inchi and tucuma butter, extracts of common horehound and olive leaves – improve skin hydration, they reinforce the defensive barrier and perform an antioxidant action.
Moisturized and sun-kissed skin, any month of the year. The secret, for British make-up artist Charlotte Tilbury, is Unisex Healthy Glow Tinted Moisturizing Cream. Concentrated with tanning pigments of natural origin, it gives a natural tan. Its active ingredients mimic skin lipids to promote skin elasticity. The vegan formula is ideal for both men's and women's skin.
It is capable of uniforming the complexion and minimizing the visibility of imperfections, BB Magic Colored Cream SPF 15 by Rougj+. A product that combines the benefits of a moisturizing treatment and the power of make-up. Its innovative formulation manages, in contact with the skin, to self-adapt to any shade of complexion. Inside, hyaluronic acid in two different molecular weights, sunscreens, powders with an illuminating effect and micro-encapsulated pigments are combined.
It is not a colored cream but a colored gel: Bronzing Gloss by La Biosthétique gives vitality and luminosity to the complexion. Its refreshing effect is twofold: on the one hand, the gel warms the skin with a touch of summer tan, on the other, it revitalizes it with rich hydration. For a colorful glow. It contains a high percentage of glycerin, vegetable squalene and oil obtained from castor beans. To give the skin a fresh, dewy finish. Perfect for Shower Makeup experiments. Jojoba and grape seed oils and vitamin E, soften the epidermis and defend it from external agents.